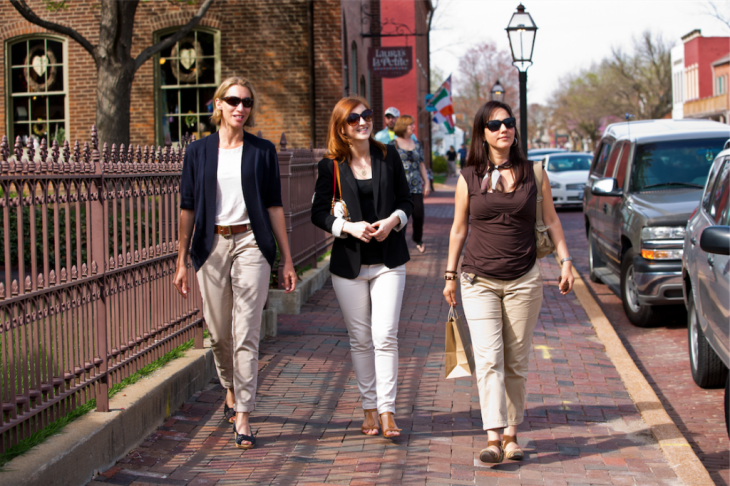 Shopping is the number one activity for groups when traveling. In fact, I'd wager that if your next tour didn't include some shopping, your group might be a bit bewildered or even disappointed.
From souvenir shopping at the museum gift shop to a more hands-on experience such as make-your-own pottery at a local ceramics store, the goal is always the same: creating long-lasting memories with your groups. You can even sweeten the deal by coordinating with local CVBs to receive coupons and discounts for your group's shopping experience.
If the travelers in your tour group are anything like us—and we bet they are—one of the best parts of a motorcoach trip is the opportunity to investigate the local trendy boutiques, small gift stores, shopping malls, outlets, downtown retailers, and specialty shops. Sure, the thrill of a train tour or a relaxing sunset cruise will create memories for your group, but that handcrafted sweater purchased at an artisan's gallery is a memory your traveler can take home and enjoy for years to come.
The Midwest takes its shopping seriously. Thanks to the cold winters, it's become a favorite indoor pastime. So with shops in every size, shape, and theme conceivable, it only makes sense for shopping to be a must-do on your itinerary. Here are just a few examples:
Traditional Shopping THE MALL
Did you know indoor shopping malls have been around in some form or another since the 1950s? Yep! And they only get better—and bigger—with time. Okay, so you've heard about Mall of America® in Minnesota, but malls come in all sizes and often have an easy set-up for the shopper. If you're considering a visit to an outlet mall, you may need to also consider the weather. A traditional indoor shopping mall will keep your group warm in the winter and cool in the summer. Mall of America® (MOA), which opened in 1992, has over 500 retailers and restaurants under one roof, not to mention an aquarium, movie theatre, amusement park, and celebrity appearances throughout the year. And malls aren't just "mega." They're convenient. They bundle recreation, shopping and dining in one area, and they have gloriously large parking lots. You'll have no trouble parking a bus here!
Unique RETAILERS
WITH BIG IDEAS in unique places
If you're looking for an indoor activity, but you want something more eye-popping than "mall" to add to your itinerary, consider a specialty retailer. Unique specialty boutiques are springing up all over the Midwest. Some host monthly events, while others are open just a few days a week. They may specialize is repurposed furniture (take your group there to get some home décor ideas) or they may specialize in handbags or other accessories. The list is endless and these savvy business owners love to open their doors for groups. And what better way to make your group feel just that more special? Cabela's®—known as the "World's Foremost Outfitter" of hunting, fishing and outdoor gear—has become a destination in itself, with locations around the Midwest, offering lots to see as well as lots to do. How about a 45,000-gallon aquarium? Or a mountain diorama with 75 wild game mounts? Cabela's® and other retailers around the Midwest play host to a number of unique indoor activities and have built reputations as tourist destinations. Local chambers, CVBs, and retail associations know just what you're looking for: antique malls, flea markets with live entertainment and dancing, outlet emporiums, craft barns, and multi-story artist lofts with gallery space around every corner. At a furniture retailer they always have plenty of chairs and sofas for your group members to take a load off (and get decorating ideas, of course).
STORE-ING UP GOOD MEMORIES
Shopping—it's something everyone does and everyone knows how to do. As an item on your itinerary, shopping gives your group travel members a chance to move about on their own and to individualize their browsing. It also gives them an opportunity to find that perfect gift for a friend or that perfect takeaway memory of a good trip. You provide the motorcoach, and your tour operator, chamber, CVB and retail association will provide the shops and shopping ideas for your one-of-a-kind itinerary.