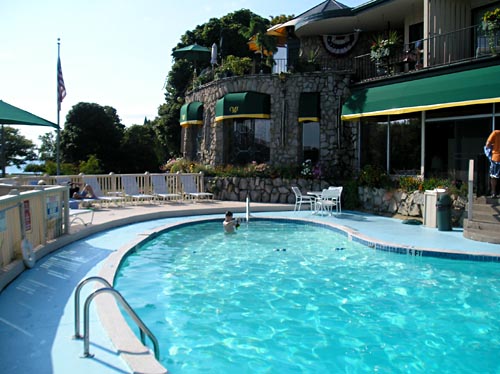 Spending the night at Weathervane Terrace Inn & Suites is like no other. From the castle-like exterior to the luxurious rooms, you will find something that suits your group. Relax by the Pool & Hot Tub Spa, or walk down steps to a beautiful beach on Lake Michigan—just steps away from downtown shops, restaurants, and the Beaver Island Ferry.
Luxurious Rooms
Luxurious rest is a promise held by the Weathervane staff. Choose from oversized, standard, or patio rooms, or a suite. Many rooms have private balconies. The Lake Michigan Wing features rooms with 2-person Jacuzzi tubs and wet bars, or 1-bedroom suites featuring a fireplace & kitchenette.
Relaxing Pool & Hot Tub Spa
The heated outdoor pool invites guests to relax and enjoy the Charlevoix air and sun. The busy harbor and channel provide visual entertainment. The hot tub spa is located in the Lake Michigan Wing, offering guests a warm respite from the day's activities. Enjoy your Michigan vacation getaway in style.
Delicious Breakfast
Each morning from 6 to 11:00am, Weathervane guests enjoy a free and bountiful continental breakfast by the pool. Newspapers, coffee and harbor views are included of course!
Beautiful Views
Breathtaking views of Lake Michigan and a timeless Earl Young stone fireplace
to warm you, are both part of the unique experience at the Weathervane.
For more information contact the Weathervane Terrace Inn & Suites at 800-552-0025 or online at www.weathervane-chx.com.