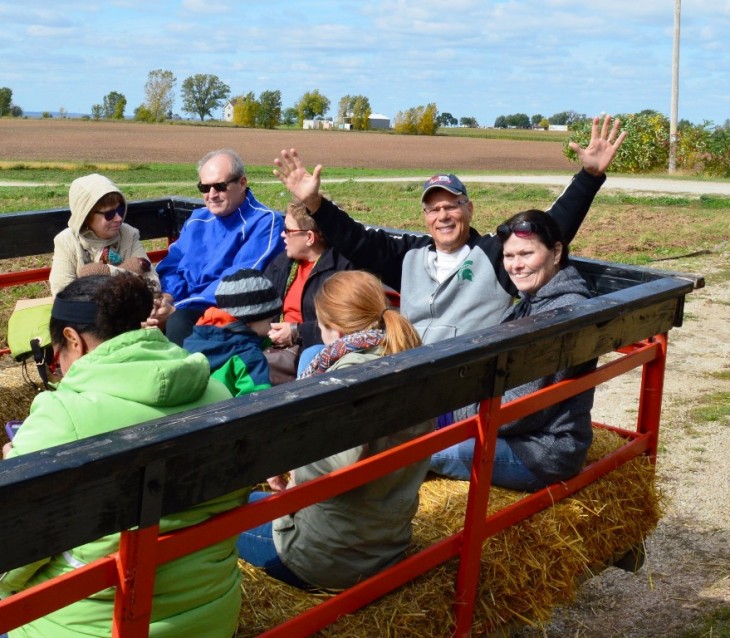 Have you ever visited a dairy farm? Met an emu? Tasted a squeaky-fresh cheese curd still warm from the vat? Gotten lost in a corn maze, or picked your own strawberries under the same summer sun that sweetened them? You are about to.
Wisconsin Agricultural Tourism Association (WATA) and Visit Wisconsin invite tour groups to get in touch with the land. Enjoy farmstead bed & breakfasts, pick-your-own orchards, or food discovery centers.
These tours will put your groups directly in touch with the "makers" responsible for locally sourced Wisconsin ag products. You will meet producers, growers, famers, brewers, vintners, bakers, and cheese-makers. Wisconsin also hosts agri-tourism-related events that include food festivals, breakfasts on the farm, and fall harvest adventures.
Let the ag-ventures begin!
Abby Colby Crossings Chamber of Commerce | Ages Past Bed & Breakfast | Apple Holler | The Barn at Harvest Moon Pond | Calumet County Tourism | Circle M Market Farm | Down a Country Road | Fawn Creek Winery | Glacial Lake Cranberries | Gramma Miller's Farm Market | Green County Tourism | Hinchley's Dairy Farm Tours | Holland's Family Cheese | Kickapoo Orchard | Maple Trees & Milwaukee Trains | Mauston Chamber of Commerce | Meuer Farm LLC | Munson Bridge Winery | National Historic Cheesemaking Center | Old World Wisconsin | Rural Arts Roadtrip | Rushing Waters Fisheries | Sassy Cow Creamery | Stonefield Historic Site | Trout Springs Winery | Vetro Winery | Warrens Cranberry Festival | Wisconsin Cranberry Discovery Center & Wetherby Cranberry Co.
ABBYCOLBY CROSSINGS CHAMBER OF COMMERCE
Don't miss the ag-ventures going on this year!
Annual Colby Cheese Days – July 17-19, 2015
Book/movie sale, ATV pull, softball tournament, bingo, parade, street dances, tractor pull, midway rides, 3 on 3 basketball tournament, pedal tractor pull, puppet show, archery range, plenty of free Colby cheese, Chariots of Cheese 5K/10K run and 5K walk & 1 mile kids run (www.chariotsofcheese.org), cheese curd throwing contest, famous VFW charcoal chicken, petting zoo, beer tent, live music all three days, down-home cooking and refreshments.
Lama & Craft A-Faire – Oct 10-11, 2015
Come learn why this event is spelled "Lama" & not "Llama!" Experience unique & historical activities, craft vendors, demos of crafts & fiber arts, 5K/10K run, 5K walk (Lama Trot Run), llama cart races, food vendors, stage shows, Kiss the Llama Contest, meet Floyd Zopfi (world record holder for carriage driving) and much more.
To customize your trip, contact AbbyColby Crossings Chamber of Commerce at 715-223-8509 or online at www.abbycolbyareachamber.org.
Each beautiful room at Ages Past has a history and elegance like no other. Enjoy a gourmet breakfast made with locally grown and organic choice produce. Each breakfast incorporates a hot entrée, fruit, fresh baked breads, juice, coffee or tea. Gluten-free, vegan or vegetarian, and lactose-free options are available upon request. Organic Cashton Coffee Company beans are freshly roasted in-house and Organic RISHI teas are available for all guests! The Back Door Café – Coffee Haus is now open for dinner, decorated in Paris Fleur Des Lis Style. Wine is for purchase exclusively from Vernon Vineyards near Viroqua, WI.
Contact Ages Past Bed & Breakfast to find out more. To make a reservation, call 608-654-5850 or visit www.agespastbnb.com.
Welcome to Apple Holler Family Farm, where you can "Pick Your Own Memories" all year round!
Apple Holler invites your groups to have a relaxing and enjoyable farm experience and some good country cookin'. Your view of life on a farm and orchard will expand when you view Apple Holler's 78 beautiful acres that house an orchard and the Red Barn Restaurant. Your tour groups will experience interactive farm tours and a real farm meal touched by the magic of their apples. This is farm-to-table goodness at its best! Many agricultural and culinary options are available to you and your groups.
Tours will be guided through the beautiful orchard and farm. Learn how Apple Holler uses responsible earth-friendly growing practices, or "Integrated Pest Management," so that they are able to produce high quality foods while still caring for the environment. Groups are welcome to taste fruit right off the tree and vegetables from the gardens. The farm also has an Enchanted Forest and a Golden Goat Bridge.
Group activities include Bread or Pie Baking, Cannin' & Jammin', or even a fun session of "Bingo." Step into the Country Store to find unique items that include crafts, wines, décor, jewelry, caramel apples, apple cider, fresh baked goodies (including award winning pies), plus quite a few things to taste and sample. Arrange one of the following for your group: Pig Roasts & Picnics, Apple Orchard & Farm Tour, Horse Drawn Sleigh or Wagon Ride, Gemstone Mining, Apple Picking, Peach Picking, Snap Pea Picking, Pumpkin Picking or attend one of their festivals! If time is an issue, simply stop by for coffee or hot-spiced apple cider and apple cider donuts. They have a variety of options just for your group, including the newest tour coming soon: Farm to Table Pizza Garden Tour.
Contact Apple Holler to build your own customized itinerary at 262-884-7100 or online at www.appleholler.com.
The Barn at Harvest Moon Pond is an old English post & beam timber barn that is perfect for your next group event. The rustic barn holds a massive hickory and stone fireplace, ancient timbers, chandeliers and an impressive lit cupola. The barn is reminiscent of the 1800s, with lanterns hanging from the grand farm posts and incredible stained glass windows illuminated at night. Your event will include use of the amazing kitchen, impressive changing rooms and bathrooms. This venue is open all months of the year.
For more information, contact The Barn at Harvest Moon Pond at 608-635-4344 or online at www.barnharvestmoon.com.
CALUMET COUNTY TOURISM
Supper Club Capital of the Midwest®
Relax in the nature-based Calumet County, a small rural community situated on the east side of Lake Winnebago. With great opportunities for fishing, shoreside camping, farming experiences, and underground caves to explore, they will keep your groups entertained. Enjoy 10,000 acres of land used for hiking, hunting and bird watching and experience the wilderness in their State Wildlife Areas.
Groups will enjoy the huge variety of supper clubs to choose from. Respectfully donned the Supper Club Capital of the Midwest®, the county attracts a variety of culinary and conversational enthusiasts. Calumet County's supper clubs are just as popular as their dining guide, titled "Breaking Bread in the Holyland." The dining traditions in this county are an experience like no other.
Calumet County is proud of its natural beauty and they invite you to visit their many parks, including: Calumet County Park, a shoreside campground with a marina, trails, effigy mounds and a winter tubing hill; Becker Lake, a quiet park with a tranquil prairie; Ledge View Nature Center, known for its caves, maple syrup and snowshoeing; and Brillion Nature Center, which has weekly family activities and is ideal for nature hikes. There's also High Cliff State Park with its towering cliffs, lime kilns, trails, old general store museum and campground.
Don't miss the ag-ventures in the area! Pick juicy apples at Heritage Orchard, take a tour and visit the animals at Mulberry Lane Farm & Meuer Farm, or pick the perfect pumpkin at Polly's Pumpkin Patch.
For more information or to create an ag-venture for your group, contact Calumet County Tourism at 920-849-1493 ext. 263 or online at www.travelcalumet.com.
If you are touring through the beautiful Driftless Area of Southwest Wisconsin, there's no better place for a stop than the little valley homestead at Circle M Market Farm. Located just outside of rural Blanchardville, Circle M is a working farm where shepherdess and fiber artist Kriss Marion grows four acres of heirloom vegetables and raises sheep, goats, hogs, steers, chickens and ducks.
Marion runs a Bed & Breakfast in the charming vintage farmhouse and a CSA (Community Supported Agriculture) operation providing vegetable shares to families, both local and in Madison. But she also offers tours and classes custom-tailored to guests from near and far who want two-hour to two-day educational experiences on the farm. Marion will create a custom curriculum fit for any group.
Visit the website at www.circlemfarm.com for more information or contact Kriss Marion from Circle M Market Farm at maidmarion@circlemfarm.com or 608-558-0501.
Take in a simpler lifestyle as you tour Wisconsin's largest Amish community near Cashton, WI. Over 300 Old Order Amish call the area home and have established a community rich in history, culture and handcrafted treasures.
Chuck and Kathy Kuderer have established a very close friendship with the Amish, and together work to bring handmade treasures and treats to you at The Village Shops at Down A Country Road. The Village Shops consist of 6 unique small cottages filled with products made by the local Amish, other local artisans and some unique general giftware. Most of the little cottages were built by the Amish and are set in amongst beautiful gardens.
Peruse the Amish Shop to find an array of handmade items. The Little Red Shed is filled with great giftware, much of which is made by other local artisans. Emma's Kitchen has your taste buds covered, offering homemade jams and jellies, maple syrup, honey products, noodles, bread mixes and much more. Kinner Korner Children's Shop features furniture perfectly designed for little ones, as well as toys both wooden and soft. Not So Plain & Simple has plenty of pampering goods and accessories, including handmade jewelry, scarves, lotions and potions and other fun items. Of course a stop at Country Corner Ice Cream Shop is a must. Choose from several flavors of delicious, hand-dipped, made-in-Wisconsin ice cream, sip an old-fashioned Spring Grove soda pop, or savor other candy treats.
Visit the shops then take a tour of the Amish community. Kathy Kuderer or another guide will step on board your coach and share with you the history, traditions and customs of the Amish. The gift shops and tours are available to your groups from May 1st through October 31st by reservation. There is no cost to stop with your group at The Village Shops, however there is a fee for the tour.
For more information contact Kathy at Down a Country Road at 608-654-5318 or visit www.downacountryroad.com.
Indulge in a glass of fine wine while savoring the peace and quiet of the woods on the outdoor deck overlooking this seven-acre vineyard. Located just 10 miles north of downtown Wisconsin Dells, Fawn Creek Winery is a family-owned business nestled on 36 acres amid a grove of maple, pine and oak trees. They feature complimentary wine tastings, a gift shop, and a micro menu. The micro menu features olive trays, bread with dipping oils, cheese flights from award winning Wisconsin cheese makers, and Wisconsin micro brews. The short drive out to the country will make a lifetime memory.
With music and events going on weekly, there is always something fun to enjoy while sipping on your wine. Saturdays and Sundays, Memorial Day through Labor Day, hear music from various bands as they perform on one of the Wisconsin Area Music Industry's (WAMI) 2015 Venue of the Year award-winning stages. It's a great place to enjoy some music!
For more information, or to customize a visit, contact Fawn Creek Winery at 608-253-4400 or online at www.fawncreekwinery.com.
Grab ahold of adventure at one of the oldest cranberry marshes in central Wisconsin. Glacial Lake Cranberries invites your groups to delight in a tradition that began over 140 years ago. The natural beauty of the cranberry wetlands during harvest season is a sight to see! Guided tours will lead you around the marshes and groups will be able to witness the harvest in action. Your next stop will be at the CranberryLink® Visitor Center to connect with North America's native red fruit through videos, cranberry memorabilia, and cranberry collectibles. Your groups will be able to purchase fresh cranberries and related items.
Every season at Glacial Lake Cranberries is an adventure. Groups can view the many stages of the cranberry's life and there is always something unique and special to see. The beautiful trails are perfect for hiking, biking and birding. Birding tours will show off the Nesting Loons, Sandhill Cranes, Trumpeter Swan, and Black Terns that are native to the land. Around mid-June through mid-July, watch the cranberries blossom in their beds. The blossoms resemble the heads of the Sandhill Cranes, which is where the "crane-berry" received its name.
Let Glacial Lake Cranberries customize a tour to fit any of your groups. For more information, call 715-887-4161 or visit www.cranberrylink.com.
Stop by the family-owned and operated Gramma Miller's Farm Market and enjoy some true Wisconsin fresh food. Some of the quality products found here in Hancock, WI include flowers, jams & jellies, honey, wines, meats and cheeses. In-season Miller Farm peas are available mid-June through mid-July.
Grab your groups and stop on over! Enjoy an ice cream cone and some cheese curds. Then check out all of their wind chimes, birdfeeders, whirly gigs and much more! They love to assist their customers in beautifying their gardens and dreams!
Call Gramma Miller's Farm Market today at 715-249-3060 or visit them online at www.grammamillersmarket.com.
Dive into southwestern Wisconsin's Green County to enjoy their famous Swiss heritage, ethnic cuisine, colorful festivals, and local brews that perfectly pair with their local award-winning cheeses! As your motor coach drives in, you will view cows grazing in lush green fields, dairy farms, and colorful barn quilts.
Start out your morning with Breakfast on the Farm, held annually in Green County the last Saturday of May as a kickoff to June Dairy Month. This event takes place at a different working Green County dairy farm each year.
Discover the legacy of cheesemaking in Green County. The National Historic Cheesemaking Center is housed in a restored railroad depot. The center features cheesemaking equipment, dairy farming heritage, and cheese factory replicas. Travel back to the late 1800s into the authentic Imobersteg Farmstead Cheese Factory. All the original equipment can be viewed in this factory that was once used for producing Brick, Swiss, and Limburger cheese using the milk from the 40 cows at the Imobersteg Farm.
Spend the afternoon at Sugar Maple Emu Farm. The family-operated emu farm offers 60 to 90-minute tours that are both fun and educational. Products for sale include lean red meat, emu oil products, feathers, leather products, and eggs.
Relax at the Hawk's Mill Winery, including reds, whites and fruit wines – everything from dry to sweet. The tasting room has the feel of a cozy log cabin, with the added bonus of a truly spectacular view.
Held annually in mid-July, the Green County Fair is a traditional county fair with youth exhibitors, judging, ag-education, livestock and small animal auctions, and tractor pulls. Unique to Green County is the cheese auction.
To have a group tour itinerary customized for your group, contact Green County Tourism at 608-328-1838 or online at www.greencounty.org.
Hinchley's Dairy Farm welcomes you to visit their family owned and operated working farm! They will provide your motorcoach groups with educational guided tours throughout the farm. Learn about the different species of farm animals, their food production and get a glimpse into their daily life. Your group's day at the farm will include hand-milking a cow, petting and feeding farm animals, and taking a relaxing hayride around the farm to view cornfields, soybeans, wheat and alfalfa. Each season brings new experiences. If you plan a trip in the spring, your groups will see a variety of babies ranging from chicks to newborn calves, or visit in the fall for pumpkin picking!
For more information or to customize a tour for your group, contact Hinchley's Dairy Farm Tours at 608-764-5090 or online at www.dairyfarmtours.com.
Welcome to Thorp, Wisconsin! A recently opened location, your groups will be able to visit the Penterman Farm, the cheesemaking facility, and the Marieke® Gouda Store. Each facility has viewing areas where your groups will be able to see each stage of the cheesemaking process. At the Penterman Farm you will be able to visit the first stage of cheese: the cows! Treated with love and respect, the cows provide full-flavored, exceptional milk. Your group's next stop will be to watch the cows' milk turn into 18-pound Marieke® Gouda cheese wheels. Each cheese is made with authentic Old World Gouda recipes and everything from the equipment to the spices is imported from Holland. After the cheese has aged, it can be found in the Marieke® Gouda Store along with local food, accessories and typical products from Holland. Holland's Family Cheese welcomes your groups to share in their passion of modern family farming and handcrafted cheesemaking!
Contact Holland's Family Cheese for more information and to schedule your tour at 715-669-5230 or online at www.mariekegouda.com.
Escape with your group into the Driftless Area of Crawford County to find Kickapoo Orchard. This small, family-owned orchard offers retail and wholesale apples and cider. If in season, you will also find red tart cherries, raspberries and bluebell grapes. Kickapoo Orchard is the best place to kick back, relax and enjoy fresh apples and cider, bakery items, or just for a great time. Indulge in their large retail store, bakery and gift shop.
New in May 2015, you can expand your cider options! The orchard increased their volume of special cider blends by grafting several varieties of French, American and English cider apples to existing trees!
To reserve your tour space, contact Kickapoo Orchard at 608-735-4637 or online at www.kickapoo-orchard.com.
MAPLE TREES & MILWAUKEE TRAINS
Start your morning with the Milwaukee Trains Tour. Groups will have a hands-on experience of what it was like to be a railroad worker on a portion of the Milwaukee Road Route that ran through Westby for more than 100 years. Next stop is at the museum where your group can examine a full-scale replica of the original Milwaukee Road Train Depot. Groups will be shown a short video about the Milwaukee Road Caboose and then be able to walk through the caboose and take a group photo. Enjoy lunch at Borgens Café located a block away from the historic Logan Mill Lodge.
The Maple Trees Tour offers a hands-on experience of tapping a maple tree and becoming a maple syrup farmer. Enjoy a dish of ice cream with maple syrup topping while watching a video on the Ocooch Mountain Acres operation. Maple syrup will be available for purchase. Groups can walk through the syrup processing and bottling room to see the process in motion.
For more information or to customize a tour for you group, call Ruth Rupp at
608-606-2866 or online at www.ocoochmountainacres.com.
Positioned halfway between Chicago and Minneapolis, Mauston finds you centered in the scenic Wisconsin outdoors. With clean, friendly and affordable lodging that is group friendly, Mauston serves as the ideal base camp for experiencing the real Wisconsin. There are many local attractions to see! 
Wisconsin Cranberry Discovery Center – Your group will enjoy the day walking through the museum. Treat yourself with some cranberry ice cream, cranberry pie and other bakery items. Then take a guided tour through Wetherby Cranberry Company Marsh to see the work in action!
Red Ridge Ranch – They offer it all when it comes to riding. Along with a beautiful view of the Lemonweir River from horseback, they offer 1-hour trail rides through 250 acres of rolling farmland and wooded hills.
The Cruisin' Turtle – This 48-foot cruiser accommodates up to 50 people and is available for rent on the Castle Rock Flowage.
Carr Valley Cheese Co. – From traditional classics like expertly aged cheddar cheese to award-winning American originals like Cocoa Cardona and Gran Canaria, their skilled cheesemakers turn milk delivered fresh from local dairy farms into more than 100 delicious cheese varieties.
Necedah National Wildlife Refuge – They are home to more than 110 species of migratory and resident wildlife. Visitor activities include wildlife observation, photography, environmental education, nature programs, fishing, hunting and more!
Burr Oak Winery – You'll find national award-winning, estate-grown table and dessert wines from their vineyards in New Lisbon WI. Since 1997, the Kennedy family has been dedicated to bringing you a wide variety of fine wines.
Clark's Hooves & Feathers Farm – Visit with the miniature horses and emus and learn about the natural benefits of emu oils. Test some out for yourself!
The Dells – Find live entertainment, thrilling attractions, lux to cozy accommodations, and dining options to please any palate. Oh, and let's not forget the waterparks! There's always more around each and every corner. Start planning your group getaway today!
To arrange a Mauston itinerary that fits your needs, call 844-498-5444 or go online to www.mauston.org/tours.
The trails of Meuer Farm come to life with a relaxing hayride. Along the way, you'll see pastures that are over 100 years old, groves of black walnut & maple trees, a stream that flows into Lake Winnebago, and enormous fields. Your guide will explain rotational grazing, maple syrup, land conservation and much more.
The owner, David Meuer, offers one-of-a-kind presentations from his experiences on the farm. He discusses growing strawberries, underground irrigation, making maple syrup, beekeeping, and growing grains. These presentations provide you with a greater understanding of how farmers work hand-in-hand with nature to produce the food you eat.
The farm offers farm-to-table experiences with specialty lunches and dinners just for your group. They work with local chefs and restaurants to offer these fresh meals to you. Located in the Main Activity Building, your groups will be protected from the elements, but will have a breeze and a beautiful view of the fields. Meuer Farm will work with you to create the perfect meal to fit your group.
Don't miss the Busy Bee Country Store, offering varieties of on-farm and local products. You'll find raw honey, gluten-free rolled oats, handmade artisan pastas, organic sunflower oils and finely crafted goat milk soap.
For more information and to customize a tour for your group, contact Meuer Farm LLC at 920-418-2676 or online at www.meuerfarm.com.
Centrally located in Wisconsin's heartland, the Munson Farm was built in 1914. Today, the home and barn are still standing strong, serving up a large variety of fruit wines including raspberry, elderberry, boysenberry, plum, blackberry, crabapple, cranberry and even maple syrup wine, as well as many other seasonal favorites. Munson Bridge wines are made with the finest and freshest ingredients using locally grown fruit and ingredients whenever possible.
Relax by the family pond with a glass of wine or walk the beautiful gardens. Munson Bridge Winery offers private wine tastings to groups year round by appointment.
Sample their delicious gourmet olive oils and vinegars at their oil & vinegar tasting bar! Their unique flavors include: Basil, Tuscan Herb Blend, Hot-Hot Chipotle,
Garlic,
Wild Mushroom & Sage, and Roasted Onion & Cilantro. Flavors change seasonally.
Visit Munson for their Fondue Fridays, June through August by reservation—another fun tasting event for all! Explore the gift shop that offers local cheeses, gourmet olive oils, vinegars, beer, soda, and gift items galore.
Contact Munson Bridge Winery for more information at 715-229-4501 or online at
NATIONAL HISTORIC CHEESEMAKING CENTER
The southern gateway to Wisconsin is home to the National Historic Cheesemaking Center. Tour guides eagerly await your group's visit to tell stories of early cheesemaking and why this gave Monroe the title of "Cheese Capital of the USA."
The center will provide a step-on tour guide for your bus. You will be invited to see how cheese was made in the century-old Imobersteg Cheese Factory, which has been relocated and restored on the grounds. Learn how cheese was made over a century ago, even without today's modern technologies!
Join the cheesemaking community for June Dairy Month. Every year on the second Saturday of June, master cheesemakers along with retired cheesemakers will produce a 90lb wheel of Swiss cheese as you watch! Groups will receive a gift bag to remember their visit.
Contact the National Historic Cheesemaking Center for more information at 608-325-4636 or online at www.nationalhistoriccheesemakingcenter.org.
Step into Old World Wisconsin and discover the historic farm and village buildings that make up the world's largest museum focused on the history of rural life. Experience immigrant life in the rural Midwest from the late 1800s and early 1900s. Help period-clad interpreters do the tasks of early settlers as you visit 10 working farmsteads, organized by immigrant groups.
The museum is made up of more than 60 historic structures. These structures range from ethnic farmsteads with furnishings and rural buildings, to a crossroads village with a traditional small-town atmosphere. Historians have preserved an impressive amount of true Americana all in one place for your groups to explore. The old farmhouses, outbuildings and small-town structures were researched and constructed piece by piece from dismantled structures from Wisconsin's past. In the middle of rolling prairies untouched by the new world, the buildings have been resurrected and taken shape once more.
You will see teams of oxen and horses working in the fields, hearty meals being cooked over wood-burning stoves, and beautiful well-kept gardens. The Crossroads Village houses a town blacksmith and a general store. Your groups will truly discover the spirit of Old World Wisconsin.
Contact Old World Wisconsin for more information at 262-594-6301 or online at www.oldworldwisconsin.wisconsinhistory.org.
Enjoy a beautiful fall weekend in October discovering the Rural Arts Roadtrip of southwestern Wisconsin! Artists will offer demonstrations of their work for your groups in their own studios. In the midst of rural Wisconsin, you will be able to wander along rustic pathways and through cornfields. Enjoy local and organic foods that include grass-fed beef, artisan cheeses, raw honey and much more.
View demonstrations from over 80 eclectic artists representing one-of-a-kind arts: stained, leaded, etched, enameled, and hand-blown glass; stitched and beaded jewelry; hand-spun, hand-woven apparel and household furnishings; hand-painted yarns; hand-felted apparel; spritzers and bath salts; yard art, rustic furniture and more. The artistic offerings show their true rural heritage.
The 3rd Annual Roadtrip Adventure of 2015 is happening October 9th & 10th from 9am to 5pm and October 11th from 10am to 3pm. This year includes expanded Places to Eat, Places to Stay and Places to Visit.
Contact Rural Arts Roadtrip at 920-286-0971 or online at www.ruralartsroadtrip.com for a roadtrip map and a list of artists.
Welcome to Wisconsin's largest rainbow trout farm! Located within the Kettle Moraine State Forest, Rushing Waters Fisheries provide a pristine yet easily accessible setting for groups. Let their tour guides engage your group with hands-on activities and a behind-the-scenes look at what makes Rushing Waters the country's leading producer of quality rainbow trout. Any size group is welcome. Rushing Waters will customize your group tour to fit your needs. Here are some options:
Enjoy a combination of tastings, private dining, culinary classes, and campfires & cookouts. Each will provide a fun, scenic experience your groups will not forget.
Complete your day by dining in the Rushing Waters tasting room, The Trout House. This farm-to-fork experience will complete your day's activities. The chef sources all of his ingredients from the fishery, as well as regional farms, to create a one-of-a-kind seasonal artisan delight. Be sure to stop by the trout farm store before you leave and buy from their full line of fresh and frozen seafood, along with smoked trout and assorted flavors of salmon. They also carry an extensive selection of sauces, breading, and marinades to help you create unique meals with your fresh fish purchases. Add a special touch to any dish with Rushing Waters' house-made spices.
Contact Rushing Waters at 800-378-7088 or online at www.rushingwaters.net.
At Sassy Cow Creamery, groups will see firsthand how award-winning ice cream and milk are created fresh from their dairy cows. Their two farms include 450 traditional and 250 organic cows that supply all the milk used at the Sassy Cow Creamery. The cows produce about 6,000 gallons of milk each day! At Sassy Cow, they believe success is related to how well the cows are taken care of, which is why they place the highest value on the betterment of their animals. Every decision they make is based off of their cows.
Take the creamery and farm tour! Your group can get up close and personal and see the entire milk-bottling and cheesemaking process from their large viewing windows. If your group is short on time, they also welcome you to stop just for ice cream and shopping. With over 40 flavors of ice cream, there is sure to be a treat for everyone. Make sure to visit their small creamery store where you can purchase local cheeses, chocolates, jams, and much more.
Contact Sassy Cow Creamery at 608-837-7766 or online at www.sassycowcreamery.com.
Celebrate Wisconsin's rich agricultural heritage at Stonefield Historic Site. Group tours include learning about turn-of-the-century dairy farming, development of modern farm implements, sights & sounds of the railroad, and visiting the grand summer estate of Wisconsin's first governor, Nelson Dewey. Explore Stonefield to see how Wisconsin became known as "America's Dairyland."
Attractions include:
Agricultural Museum – See the largest collection of farm implements developed at the turn-of-the century.
1901 Farmstead – Experience life on a WI family farm in the early 1900s.
Rural Farming Village – Find a broom maker, blacksmith, and carpenter and browse more than 30 shops.
Governor Nelson Dewey Estate – Tour the grand summer estate of WI's first governor.
Railroad Days – Hop aboard the caboose at the Stonefield Depot. Groups will view model railroads and savor Mulligan Stew.
To arrange a tour for your group, contact Stonefield Historic Site at 608-725-5210 or online at www.stonefield.wisconsinhistory.org.
Enjoy exquisite wine in the tasting room and pair that with a tour around the beautiful vineyards. Trout Springs Winery is one of the few wineries in Wisconsin that produces estate-bottled wine. With a motto of "careful attention to detail," Trout Springs Winery focuses on quality, rather than quantity. They are also the only winery in Wisconsin that has a game farm, a plant nursery, and a trout production facility all on the same site. Also on site is Branch River Farms, growing herbs and rose gardens that find their way into almost everything they do. The natural herbal beeswax candles, teas, and potpourris make great gifts for any occasion.
Seasonally, they host Dining on the Ledge©, an event in which your group will indulge in a 4-course dinner paired with TSW wines for each course.
Contact Trout Springs Winery at 866-687-9463 or online at www.troutspringswinery.com.
In the heart of Jefferson County is Vetro Winery, centrally located between Madison and Milwaukee. Open your mind and give your palate an adventure with exciting varietals. They share the bounty of nature with your group through the craft of winemaking. Sit on the patio and sip and savor while glancing at the wildlife of the Jefferson Marshland. More than a tasting facility, theirs is a wine experience that will expand your mind and open your heart.
Indulge in flavorful wines like Wap-a-tu-e, dedicated to Wisconsin-grown grapes. Other grape varietals include: Nun on the Run, Vetro Bianco, and an even-balanced Riesling. Or take a trip to the countryside with Strawberry Wine, Cherry Wine, Blueberry Wine and Red Plum Wine.
The Vetrano family's passion for wine began in Sicily over 100 years ago. Let them share that tradition with you!
To have a tour customized for your group, contact Vetro Winery at 920-674-9650 or visit www.vetrowine.com.
Warrens Cranberry Festival is the world's largest cranberry festival and is held the last full weekend of September. Whatever kind of cranberry treat you can imagine, you'll find it here! With 850 arts & crafts booths and 350 antique & flea market booths on top of contests, marsh tours, a parade and so much more, you will be busy all weekend long. As they say in Warrens, "Bring your walking shoes… you're gonna need 'em!"
Warrens Cranberry Festival features over three miles of shopping that includes:
Arts & Crafts: handmade jewelry, wood sculptures, metal garden art, knitted items
Flea Market & Antiques: primitives, fishing & hunting supplies, purses, collectibles, toys, clothing, sports memorabilia
Farm Market: fresh fall produce, dried flowers, honey, soaps & lotions, and much more
Don't miss the festival this year! The dates are set: September 25-27, 2015.
For more information contact the Warrens Cranberry Festival at 608-378-4200 or online at www.cranfest.com.
WISCONSIN CRANBERRY DISCOVERY CENTER & WETHERBY CRANBERRY CO.
Experience the Exhibit Hall of the Wisconsin Cranberry Discovery Center, featuring a 6-minute video presentation about the cranberry industry in Wisconsin and an interactive self-guided tour. The vintage soda fountain offers 5 flavors of cranberry ice cream, crafted exclusively for them. They are the official wine tasting site for DnA Vintners on the Wisconsin Winery Tour, and they feature daily tasting of area cranberry wines. The gift shop showcases original artwork from local artists and they carry an array of cranberry salsas, mustard, grilling sauces, chocolates and other goodies. The tasting kitchen offers a variety of fresh baked goods from cookies to pies. They host special events every weekend during the summer and harvest season. For more information visit them online at www.discovercranberries.com. Groups with advanced reservations will be greeted by a guide with experience in the cranberry industry.
Located only a few miles from the Wisconsin Cranberry Discovery Center, a trip to the Wetherby Cranberry Company is likely to offer glimpses of wildlife and birds, cranberry beds in seasonal stages of production, and beautiful local scenery. Once you arrive at the marsh, you will be accompanied on a group or private tour of the Wetherby Cranberry Company operation, focusing on the history of the cranberry industry and explaining current methods of growing and harvesting. The Wetherby marsh offers fresh cranberries during the harvest season and their own Van Wychen Wine, made with Wetherby cranberries.
Reservations for both tours can be made at 608-378-4878 or to book a private tour at the Wetherby Marsh call 608-378-4813 or visit online at www.freshcranberries.com.
WATA
Wisconsin Agricultural Tourism Association
608-343-0201