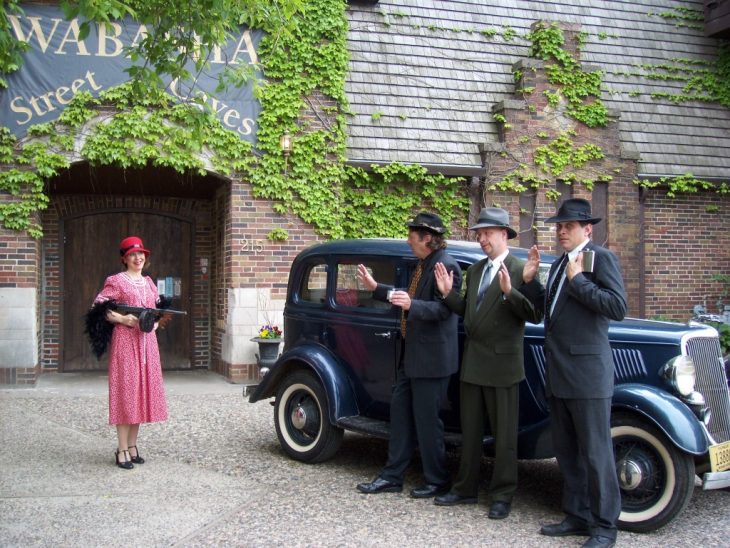 What better way to show your groups the history of St. Paul than with the Wabasha Street Caves? Carved out of sandstone and dating back to the 1840s, these caves have been used for numerous activities including: growing mushrooms, storage of food and belongings, music, and dancing. Legend has it that gangsters Ma Barker & John Dillinger visited the Castle Royal nightclub in the caves.
Tours available for groups of 25+ anytime!
St. Paul Gangster Tour
Explore the sites of nightclubs, kidnappings, and gun battles associated with 1930s gangsters like John Dillinger, Ma Barker and Babyface Nelson. Discover where the gangsters lived it up as they planned and executed some of their most notorious crimes.
Historic Cave Tour
Come hear and see the history of these sandstone caves. Explore the original mined caves and see the finished caves, formerly home to the romantic Castle Royal nightclub. Hear the legends of the mobster massacres and ghostly lore in a unique setting.
Ghosts & Graves Tour
This 2-hour motorcoach tour is designed to give you shivers! Hear stories of haunted sites and historic murders, visit a haunted cave, and learn about the history of a local St. Paul cemetery.
Lost Souls Tour
On this walking tour you will hear of the mysterious sightings in the Wabasha Street Caves. If you have always wanted to know what goes on inside these caves, this is your chance.
Twin Town Tacky Tour
Join the Gundersons—Gloria, Gordy, Glen or Gladys—on a journey to the tackiest places in St. Paul & Minneapolis. This 2-hour motorcoach tour will take you to sites that no other tour of the Twin Cities would dare to venture.
The Uff Dah! Tour 
Set out to discover how and why immigrants from Norway, Sweden, Denmark and Finland came to settle in St. Paul and Minneapolis. Learn about Swede Hollow and Old Muskego Church.
Mill City Mobs Tour
This tour shows you the MiniApple when it was rotten to the core. There were gangsters in St. Paul, but Minneapolis had rackets and mobsters. This 2-hour tour will tell you the stories and show you the sights on the other side of the tracks—or river.
Rivers & Roots Tour 
Learn about the formation of the Twin Cities around the Mississippi River. Have you ever wondered how Minneapolis and St. Paul got their names? Learn about the two cities and catch beautiful views of the Mississippi River.
The No Blarney Tour
See how Irish immigrants influenced architecture, politics, and religion in St. Paul's past.
Scott Fitzgerald Tour
This 2-hour bus tour will take you around St. Paul to the spots where F. Scott Fitzgerald lived and hung out.
The St. Paul Victorian Tour
Learn some secrets of the Victorian Era and see some of St. Paul's hidden historical treasures on this tour.
For more information or to make reservations for your group, call 651-292-1220 or go online to wabashastreetcaves.com. See you underground.