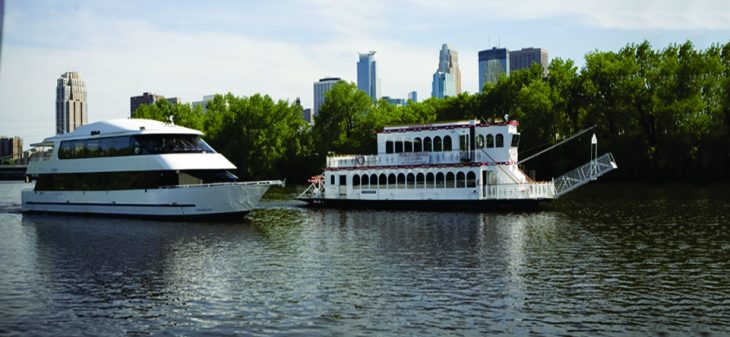 By Kathleen Somers
Which would you rather do: follow your brother into the family business so you can hang outdoor signage in minus-twenty-degree Minnesota winters, or spend your workday cruising beautiful Lake Minnetonka every Minnesota summer? Dave Lawrence was a young man in his twenties when faced with just that sort of choice. No dummy he, Dave jumped at the opportunity to tend bar for a then-popular Lake Minnetonka cruise line. He fell in love with working on the water, and we are so glad he did. That was a while back. By 1985 his love of the hospitality business and his dad's entrepreneurial spirit merged to inspire Lawrence to found his own business, a Lake Minnetonka cruise line.
Lake Minnetonka is one of Minnesota's larger lakes and certainly one of the most popular recreational lakes. Officially named in 1852, Minnetonka means "big water" in the Dakota language. And big it is, with thirteen municipalities surrounding it. Early history tells stories of large steamboats, grand hotels, yacht clubs, sailing regattas, and vacations for the rich and famous. All this a mere 15 miles west-southwest of Minneapolis, Minnesota. Lawrence picked himself a fine place to begin his business and in 1988, when he met the woman he would later marry, a new inspiration was sparked to take his company to greater heights.
There's something very special about Lawrence's company. Built from the ground up, it's a family owned business with a reputation of catering to the customers' needs. Since its humble beginnings in '85, Paradise Charter Cruises has grown to include five beautiful Skipper Liner vessels, serving well over 50,000 passengers per year on two of the country's most popular waterways. That's right. Lawrence also has an operation on the Mighty Mississippi. But let's not jump too far ahead. We should start where the company began: on enchanting Lake Minnetonka.
Paradise Charter Cruises offers departures from two very special venues on the lake: the ports of Excelsior or Wayzata. Your group will discover the beauty of Lake Minnetonka as they cruise past century-old lake cottages as well as luxurious million-dollar mansions, all from the comfort of either the Paradise Destiny II, Paradise Princess II, or the Paradise Grand. The yachts of Paradise Charter Cruises can accommodate groups of 10 to 100. It's a great way to see the sights of Lake Minnetonka as well as learn of her historical past.
Eventually, the limitations on Lake Minnetonka for boat size and numbers brought Lawrence to more opportunity and more inspiration. In 2004 he opened a second operation on the largest river system in North America, the Mississippi. Since Minnesota boasts the starting point of this magnificent river, it made great sense. The two vessels operating on the Mississippi were updated between 2005-06. Like Paradise Charter Cruises on Lake Minnetonka, Minneapolis Queen offers sightseeing boat cruises, scenic tours and private charters on the Mississippi River.
Your group will be treated to breathtaking panoramic views of the majestic river waters, and the stunning Minneapolis skyline. Options range from lots of corporate events, weddings, birthday parties, dinner cruises and more. But you'll be happy to know a good 75% of the Paradise business is public cruises. Perhaps that is why they are so good at working with planners like you to make the experience exceptional.
The Paradise Lady is the Mississippi River's only luxurious charter yacht serving the Minneapolis area. She's nearly 100 feet in length with two climate-controlled salons, lavish restroom facilities, a grand staircase, and three open-air decks, to mention just some of her elegant features. The Paradise Lady departs from Bohemian Flats Park in downtown Minneapolis and will captivate your group as she cruises the river's majestic waters. Available for groups of 50-145, the Paradise Lady will exceed your expectations with her elegance and beauty.
Also departing from Bohemian Flats just south of the historic Minneapolis Riverfront District is a modern day replica of grand riverboats of yore, the Minneapolis Queen paddleboat. Able to accommodate 125 passengers on a narrated sightseeing cruise, this paddle wheeler cruises the Scenic Byway and Heritage Trail along the University of Minnesota's campus riverfront. You'll pass under the stunning 35W bridge and enjoy breathtaking views of St. Anthony Falls, the historic Stone Arch Bridge and the legendary river bluffs—all with the Minneapolis skyline as a backdrop. Treat your group to the best the Mississippi River has to offer!
For students, during special times of the season, there are field trip options on the Minneapolis Queen. It's a great way for students to experience the Mississippi River and learn about the historic riverfront and Milling District, plus oh-so-much more.
Whether it's Lake Minnetonka or Mississippi River cruises you are interested in, the season runs from mid-April to the third week in October. Once you've done one cruise it's likely you will want to come back to experience more with Paradise Charter Cruises. The options are varied. Maybe try the Minnesota Beer Cruise where your group can sample brews made locally in Minnesota. Or consider a Happy Hour Pizza Cruise, or maybe an elegant sit down dinner cruise. There is a full menu to choose from, plus a small bar. With customer needs at the center of the company's concerns, you can rest assured that your group will have a safe, fun, and outstanding experience on either waterway. But to make it easy on yourself, you can contact one of the Paradise professionals to help you book your outing: 952.474.8058 | 888.559.8058, or book online at www.twincitiescruises.com.
Paradise has built a reputation for grand class service. Lawrence has always remained humbled by serving you, his strong clientele. Guess that's why I heard him exclaim, "I can't wait for the season to start!" Perhaps you can't either.