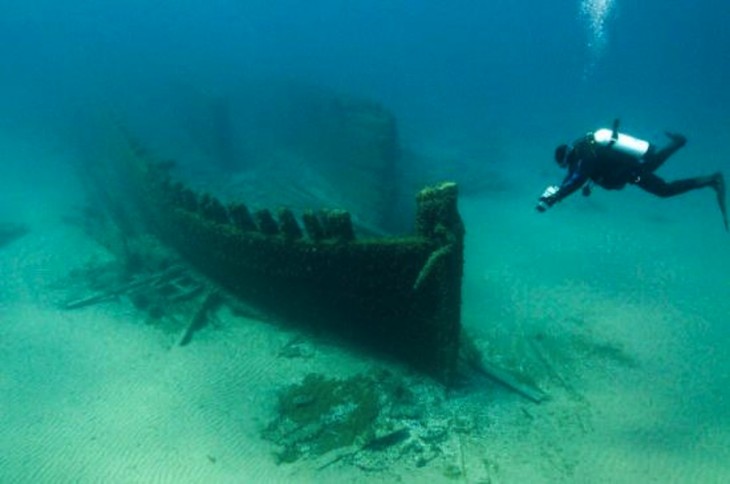 This sample itinerary is best in the summer and fall
Along US-23, also known as the Sunrise Side Coastal Highway, lies the city of Alpena, home of the Great Lakes' only National Marine Sanctuary and Underwater Preserve. The entire route covers nearly 200 miles of an excellent roadway system that takes travelers by spectacular scenic views of Lake Huron. This itinerary will take you on a portion of it from Alpena, north to St. Ignace.
10:00 am – 12:00 pm
Begin your adventure aboard the Alpena Shipwreck Tours' 65-foot glass-bottomed boat: The Lady Michigan. The crystal clear waters and large "glass bottom" viewing wells allow your groups to dive into the wrecks – without getting wet. During the 2-hour cruise you'll experience the magnificently preserved shipwrecks and the scenic shorelines of Thunder Bay. Learn the exciting tales of many famous ships and the history, legends and lore of Lake Huron.
12 – 1:30 pm
Enjoy a delicious lunch at the Court Yard Ristorante, an area favorite!
1:30 – 3:00 pm
Continue on US-23 to Rogers City and Presque Isle County's Lighthouse Park to visit the 40 Mile Point Lighthouse. The lighthouse was built in 1896 to assist ships through the dangerous shoreline that had claimed a number of vessels. See what's left of the Joseph S. Fay, one of 27 wooden ships that sank during a fierce storm in 1905. You can see about 150 feet of her sidewall resting on the beach.
3 – 4:00 pm
Gaze out the window along this beautiful Sunrise Side Coastal Highway on your way to Cheboygan, and take in the amazing scenery along the way.
4 – 5:30 pm
There are all kinds of unique attractions in Cheboygan. They're the homeport for the Coast Guard Icebreaker Cutter Mackinaw. The World Championship Wanigan Race takes place during the annual Waterways Festival in July and the Cheboygan Brewing Company welcomes visitors, featuring a taproom and a display of the history of brewing in the Cheboygan area.
5:30 – 6:00 pm
Upon arriving in St. Ignace, check in to the Kewadin Shores Casino & Hotel. The casino includes a large gaming floor featuring slots and table games, an extensive entertainment area and an 81-room on-site hotel as well as a fine dining restaurant, a lounge, a sports bar and a deli.
For more information or to customize this sample itinerary for your group, please contact your tour operator.

View Tour the Sunrise Side Coastal Highway in a larger map