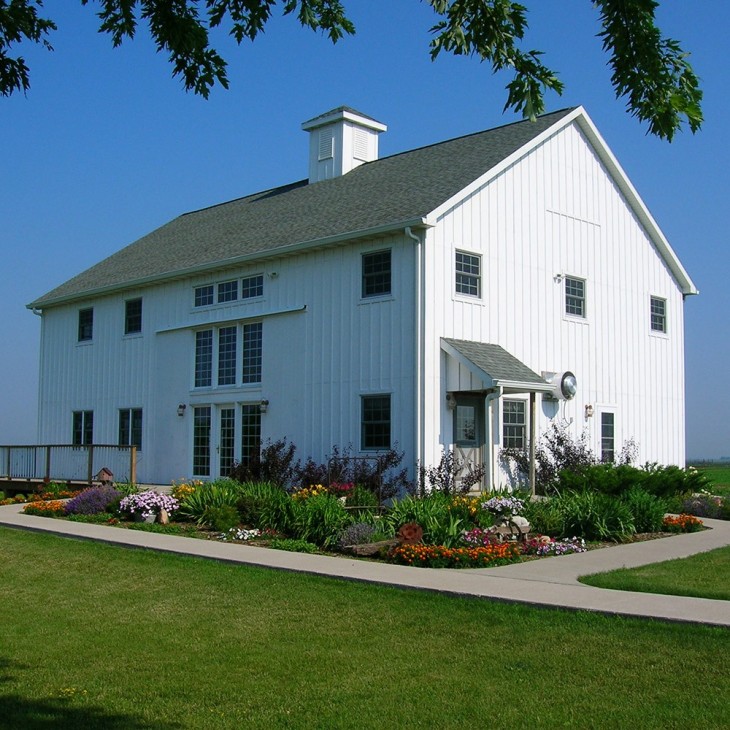 Sustainable food & civility initiatives – Orient, IA 
You can do it all at the Country Life Center. Stroll, dine, and shop at the historic birthplace farm of Henry A. Wallace, U.S. Vice President, U.S. Secretary of Agriculture, and founder of Pioneer Hi-Bred Corn Company. Acres of sustainably grown fruits and vegetables are transformed into farm-to-table meals served in the Gathering Barn. Unique outdoor art sculptures dot the ¾-mile walking path through the restored Iowa prairie. Take home a treasure from the farmhouse gift shop, which features handcrafted items from Iowa artists.
Discover more at the Country Life Center…
Restored Farmhouse
See what a rural home would look like in early 20th century Iowa. Today, the farmhouse includes offices for the staff and serves as the gift shop and produce market.
Gathering Barn
This meeting and educational facility replicates the original barn that stood west of the house in the early days of the farm. The authentic building adds character to the historical site, which is on the National Register of Historic Places.
Flower Gardens
Long before Henry A. Wallace developed hybrid corn, his first hybrid experiment was with his mother's flower garden, crossing pansies. The floral gardens use flowers grown in the greenhouse as well as plants shared by area gardeners.
Sculpture Walking Path
This gentle, ¾-mile walking trail beckons visitors to relax and ponder. View five outdoor sculptures as well as other hidden gems along the way.
Orchard & Produce Gardens
Four working acres produce 8 to 10 different kinds of fruits and 30 to 40 varieties of vegetables. The fresh produce is used at the Gathering Table restaurant and sold on Thursdays and Fridays inside the gift shop.
Restored Iowa Prairie
These nine acres of former pasture were reconstructed in 2007 to incorporate additional native grasses and forbes. Currently, the area grows about 20 grasses and 120 forbes, resulting in beautiful vistas year round.
Pond
This 1.5-acre pond was constructed in 1996, along with three grassed waterways and a terrace. It is a tribute to Henry A. Wallace's passion for contour farming and reforestation.
Gathering Table Restaurant, Gift Shop & Market
Gather your group for lunch or dinner in the Gathering Barn. Menus vary depending on what is available to harvest from the gardens. The gift shop has a diverse selection of homemade gift items such as jewelry, ceramics, note cards, quilted hangings, primitive art, handmade lotions & bath salts. Seasonally, the Market offers fresh produce for sale from the garden and orchard.
Expand your trip to this rural landscape by asking about one- and two-day itineraries!
Contact The Wallace Centers of Iowa at 641-337-5019 or go online to www.wallace.org.