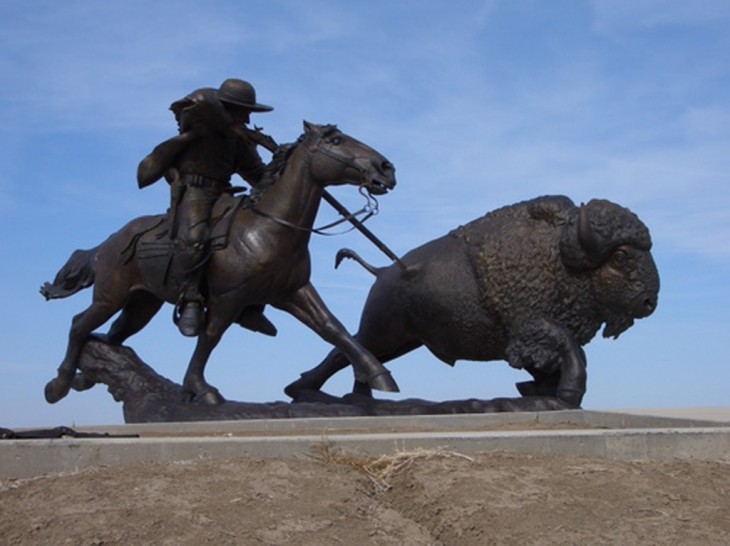 Cloud County Convention & Tourism
Come visit the world's longest sculpted brick mural in Concordia, Kansas! Our step-on guides will challenge you to a fun game of "I Spy" on the Whole Wall Mural, an amazing mural carved out of 6,400 extra-large bricks. Learn why over 250,000 orphaned or abandoned children were sent out from New York City to new homes across the U.S. at the National Orphan Train Museum.Imagine yourself performing in the theater known as the "Exquisite Gem of the Prairie," the Brown Grand Theatre. Discover amazing art and history in the halls of the Nazareth Convent. A former WWII German POW Camp, one of the largest collections of old toys, and other fun quirky spots can be found at Concordia. We offer free itinerary set-up, step-on guide service, welcome bags and a special treat at the end of the day.
785-243-4303 / www.cloudcountytourism.com
Emporia Convention & Visitors Bureau
As the official "Founding City of Veterans Day," Emporia is also home to a beautiful zoo—botanically lush with floral displays spring through fall. Your step-on guide takes you around town telling of the area's history, ghost stories, military and political tidbits. Learn about one of Kansas' most famous people with a guided tour of the state historic site: the William Allen White House. End with avisit to the Granada District and enjoy tours and refreshments. Free itinerary set-up and visitor packets are available. We're right on your way and conveniently located on Interstate 35.
800-279-3730 / www.visitemporia.com 
Liberal Convention & Visitors Bureau
Conservatively Speaking: Liberal Has it All! Follow the Yellow Brick Road to Dorothy's official hometown of Liberal, where you will find over 800 motel rooms, more than 35 restaurants and all the services travelers need. Liberal offers a wonderful setting for groups of all ages. Mid-America Air Museum will show you over 100 aircraft; Dorothy will give you a tour of her house and the Land of Oz; Baker Arts Center will provide a touch of the arts and culture; and the Pancake Day Hall of Fame will delight you with its history of the 64-year-old event.
800-542-3725 / www.visitliberal.com
Merriam Visitors Bureau
Merriam, Kansas…next door neighbors to Kansas City! Just minutes from all major metro favorites—including casinos, museums, attractions, restaurants and shopping—Merriam offers full or half-day itineraries for groups of all ages. We invite you to visit the world-famous K.C. Strings Violin Shop, an inspiring place where stringed instruments are crafted, sold and played in symphonies across the globe. Go back in time to learn about soda jerks while you sip a handmade strawberry soda from the Georgetown Pharmacy's Old Fashioned Soda Shop. Uncover your inner rock-star as your group takes the stage for a karaoke jam at GuitarLamp. View the baking and sample the sweetness of swirled dessert bread made at the famed Strawberry Hill Povitica (as seen on QVC). Contact the Merriam Visitors Bureau today to begin your group's getaway in Kansas City. Ask about our group hotel discounts and motor coach incentive program.
866-707-6534 / www.exploremerriam.com
Oakley Area Tourism
Oakley celebrates the birthplace of the legend, Buffalo Bill. The twice-life-size bronze sculpture of Buffalo Bill on his horse Brigham in pursuit of a buffalo commemorates the 1868 contest between William F. Cody and William Comstock, where Cody earned the title of "Buffalo Bill." By the turn of the 20th century, with his Wild West Show, Buffalo Bill became one of the most recognized and famous persons in the entire world. The bronze is one of the largest of its kind anywhere in the world and is one of the 8 Wonders of Kansas Art. At the apex of the Western Vistas Historic Byway, Oakley also hosts the Fick Fossil & History Museum, the Spirit of the American Doughboy statue, and Monument Rocks.
785-671-1000 / www.discoveroakley.com 
Rolling Hills Zoo
Located in the heart of Kansas, Rolling Hills Zoo awes and inspires visitors with more than 300 animals representing over 100 different species exhibited in a park on 100 acres of Kansas prairie. One of the world's premier collections of full mount animals, our Wildlife Museum proudly displays over 400 animals in full immersion naturalistic dioramas!Tour groups will find plenty of free, secure parking with drop-offs proximal to admission gates. Both escort and driver receive free admission. An on-site restaurant has meals available throughout the day. Meet & Greet service is offered with options for narrated tram tours and plenty of rest rooms. Groups will delight at the treasures and souvenirs available in our two gift shops. Rolling Hills offers personal assistance with your itinerary planning.Open year-round, seven days a week!
785-827-9488 / www.rollinghillswildlife.com

View A Taste of Kansas History in a larger map