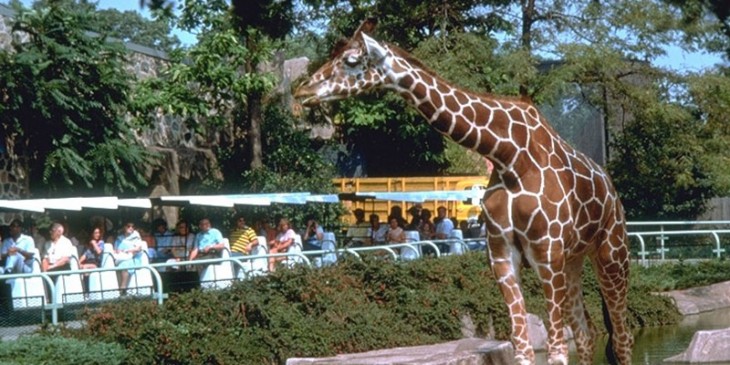 The Milwaukee County Zoo
As one of the country's finest zoological attractions, the Milwaukee County Zoo will educate, entertain and inspire your groups! Visit over 2,000 mammals, birds, fish, amphibians and reptiles in specialized habitats spanning 200 wooded acres. Explore educational wildlife shows, fun attractions and enticing special events. With many different specialized tours, there's something for the whole flock to enjoy!
Zoomobile Tours
This works great for the group that wants to get an overview of the zoo first, then go back and visit their favorite areas. If your group is larger, you can make two 15-minute stops along the way or split your group in two and take a half-hour tour. If your group has multiple stops, this is a good option.
Behind-the-Scenes Tours
Get a glimpse into the daily life of a zookeeper as a tour guide leads you around animal exhibit areas and zookeeper work areas in select parts of the zoo. Bring a camera to capture your experience. Tours include some walking and stair climbing to access the off-scene areas.
WOWS (Walk On The Wild Side)
If you enjoy leisurely strolls through the zoo and want to learn more about the animals you see, consider one of the guided walking tours (no access behind the scenes). Tour guides will explain the predator and prey exhibits and take you on a global adventure, visiting animals from different continents.
Rides & Attractions
Let your group choose what they would like to do. Each ticket is good for one ride or attraction such as the Train, Zoomobile, Sea Lion Show, Carousel or Special Exhibit.
Food Options
Let your guests choose their own cuisine, or arrange for box lunches or a full-catered picnic. They can tailor your lunch to your timeframe, needs and budget.
For more information, and to book your group's tour, contact Kathy Berendt at the Milwaukee County Zoo at 414-256-5433 or visit their website at www.milwaukeezoo.org.