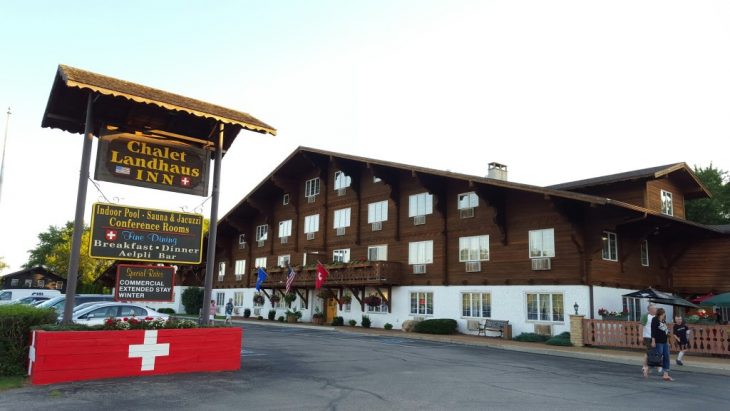 Experience the exquisite Swiss charm of the Chalet Landhaus Inn while exploring the Swiss culture and history of the New Glarus area. Plan your group's overnight stay at this traditional chalet-style inn, open year round. Built in 1980, the Chalet Landhaus Inn has been a treasure for visitors from all over, offering a touch of Switzerland right here in the Midwest. Custom-made furniture and European-style décor transport guests to the Swiss Alps. The Chalet Landhaus Restaurant serves up breakfast buffets all week long, in addition to Swiss dinner specialties, such as piccataschnitzel, wienerschnitzel, and rahmschnitzel. American favorites like New York strip steak and cheese curds are available as well. If your tour allows you to be here on a Thursday, then you won't want to miss their Swiss Cookouts, held from the beginning of May through October, from 5 p.m. to 8:30 p.m. rain or shine.
Whether you're on a one-day or two-day tour, the Älpli Bar adjoining the Chalet Landhaus Inn is a favorite spot among locals and visitors. Sit back and enjoy a Wisconsin Spotted Cow or cocktail of your choice.
For more information or to book a stay for your group, contact the Chalet Landhaus Inn at 800-944-1716 or visit www.chaletlandhaus.com.
Indulge in authentic Swiss cuisine prepared by trained chefs at the New Glarus Hotel Restaurant and escape to Switzerland without ever leaving the heart of Wisconsin. Signature dishes like geschnetzlets, rösti, beef fondue bourguignonne, spätzli, raclette, along with locally made cheeses and sausages, will delight your palate. Built in 1853, this historic building began its life as a hotel, housing salesmen and travelers awaiting services from nearby livery stables. Today it primarily serves as a restaurant, known to only three generations of owners. The cultural history and stories keep this restaurant unique, with authentic Swiss style. In fact, the main dining room once served as an opera house. Friday and Saturday evenings feature live polka music, for a truly memorable experience.
For more information or to customize an experience for your group, contact the New Glarus Hotel Restaurant at 800-727-9477 or visit www.newglarushotel.com.