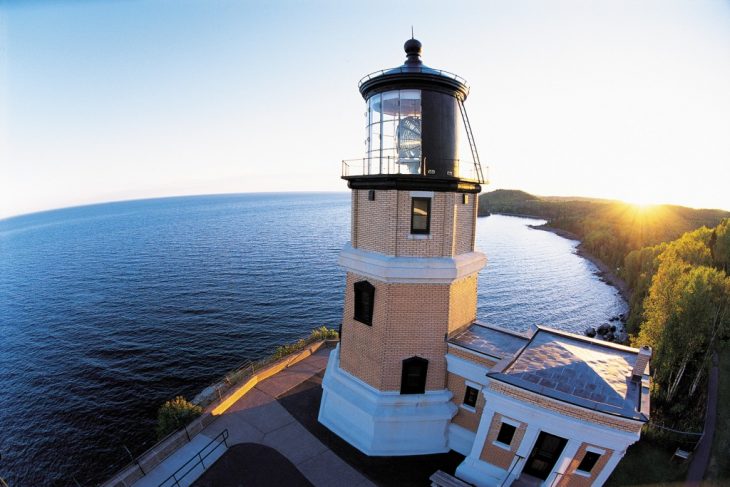 The world-renowned North Shore Scenic Drive Byway is a journey through breathtaking wilderness along the shorelines of Lake Superior in Minnesota. Stretching 142 miles north from Duluth to Grand Portage, this section of U.S. Highway 61 is nationally designated as an "All-American Road." View lighthouses, waterfalls, state parks, and friendly shoreline communities on this unforgettable tour.
DAY ONE
12 – 2:00pm
Visit the Richard I. Bong Veterans Historical Center in Superior, Wisconsin. Your tour begins with an introductory film, So We Have a War. Follow the story of WWII from Hitler's rise in Europe through the attack on Pearl Harbor to the events in the North African, European and Pacific theaters of war and life on the home front.
2 – 4:00pm
Make the short drive to Duluth to enjoy a tour of the Glensheen Historic Estate. This legendary mansion boasts more than 7.6 acres on the shores of Lake Superior. In addition to the spectacular home, your group can explore its seven acres of formal gardens and working vegetable gardens, the tennis court, and bowling green. Be sure to visit Glensheen's Museum Shop for that special souvenir.
4 – 5:00pm
Check into your hotel and enjoy a relaxing evening.
DAY TWO
10 – 11:30am
Visit Lake Superior's floating maritime museum, the S.S. William A. Irvin. Tour the proud flagship of U.S. Steel's Great Lakes Fleet and marvel at the surprisingly pristine condition of this vessel that carried iron ore and coal for 40 years.
11:30am – 1:30pm
Your group can enjoy lunch in Canal Park and browse the many unique shops in the area. Take a stroll along the Lakewalk and you might even see ships entering the harbor.
1:30 – 3:00pm
Head north on Highway 61 and be sure to stop at the world famous Betty's Pies in Two Harbors, MN.
3 – 5:00pm
Continue north on scenic Highway 61 to Grand Superior Lodge on Lake Superior. With a variety of lodging options, your group will experience a true "up north" atmosphere with plenty of things to do.
7:00pm
Dinner tonight will be at Grand Superior's Splashing Rock Restaurant, offering a savory dining experience amidst warm northwoods décor and spectacular views of Lake Superior.
DAY THREE
9:00am – 12:00pm
Enjoy the coach ride along Minnesota's North Shore Scenic Drive Byway. You'll pass by some true roadside beauty, including Tettegouche State Park, home of the High Falls of the Baptism River. You'll also see stunning rock formations, such as Palisade Head—a 200-foot cliff high above the lake. Schedule some time to get off the bus and explore.
12 – 2:30pm
Get ready for an adventure at Lutsen Mountains! Ride the North Shore Mountain Tram (mid-America's only gondola lift) to the top of Moose Mountain and enjoy 100-mile views across Lake Superior. Have lunch atop the mountain at Mountain View Grill! Gondola tour lunches include deli lunch buffet, salad, chips, dessert and beverage.
2:30 – 4:00pm
Head south down Highway 61 to explore the historic Split Rock Lighthouse & Visitor Center, perched 130 feet above the lake. Designated a National Historic Landmark in 2011, Split Rock Lighthouse is a rare example of a highly intact 20th-century Great Lakes light station. View films and exhibits about the lighthouse, and stories of major storms and shipwrecks.
4:00pm
Return to Grand Superior Lodge for a relaxing evening.
DAY FOUR
9 – 11:30am
Today your group is headed back up Highway 61 to Minnesota's own New England: Grand Marais, MN. What a great community for shopping, stunning views, great food, and galleries with locally-produced crafts, jewelry, and inspired artwork—all within Grand Marais' walkable downtown.
11:30am – 2:30pm
Your next stop is at The Naniboujou Lodge for lunch. On the National Register of Historic Places, Naniboujou boasts Minnesota's largest native rock fireplace, a 200-ton work of art that stands in the 30' x 80' Great Hall. Naniboujou was originally a private club enjoyed by the likes of Babe Ruth and Jack Dempsey. Probably the most memorable aspect of the lodge is the wondrously painted dining room with Cree Indian designs over the walls and the twenty-foot-high domed ceiling (resembling the shape of a canoe). This work of art continually amazes and intrigues, echoing the elegance and style of another era. (Itinerary consideration: group teas are served here.)
2:30 – 4:00pm
Travel down Highway 61 to Cascade River State Park for breathtaking views of the rushing river and grand waterfalls that lay within the gorge, lush with moss and ferns that grow on black volcanic rocks.
4 – 7:00pm
Another great tour option is North Shore Scenic Cruises. Enjoy a unique interpretive cruise along Minnesota's famous shoreline. Your group will enjoy a two-hour narrated audio/visual presentation on the sights and attractions along Minnesota's most majestic section of coastline. See the ships that sail Lake Superior as well as the wrecks that lie under her icy waters. Cruises begin mid-May and run through early October's fall colors.
This sample itinerary includes just a few of the many great tour ideas along the Byway. For more information and assistance, contact your tour operator, our advertisers, or local CVBs throughout the region.