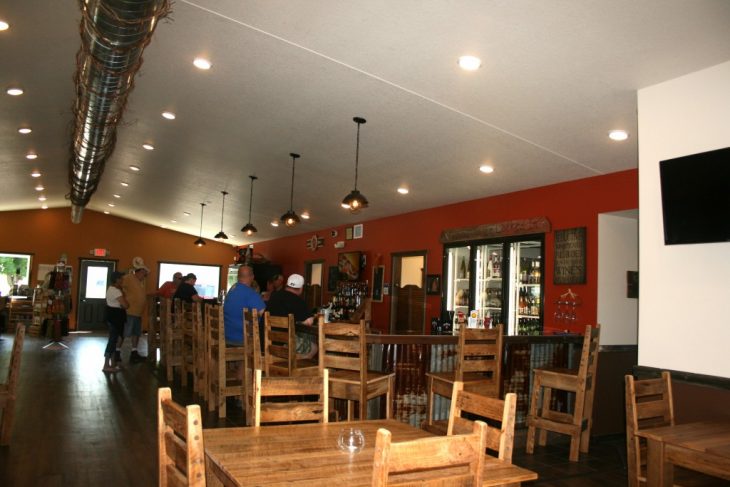 This sample itinerary is best during the late summer and fall months.
DAY ONE
10 – 11:30am
Your southwest Wisconsin itinerary begins with a scrumptious brunch at Borgens Café in Westby. They invite you to gather at their table for great food and great service in a casual and friendly atmosphere. Enjoy their locally sourced salad bar that includes seasonal produce, complete with homemade soups and salads. For more information, contact Borgens Café at 608-634-4003 or visit www.borgenscafe.com.
11:30 – 11:45am
Travel 11 miles to Cashton, WI.

11:45am – 5:45pm
Chuck and Kathy Kuderer, along with their family, invite you to visit their farm near Cashton, in the heart of Wisconsin's largest Amish community. Nestled among the gorgeous rolling countryside of Wisconsin's driftless region, the Kuderer farm is home to The Village Shops at Down A Country Road. Sense the quiet tranquility of a day in the country as you explore this family farm. The Kuderers have established a special friendship with many of the Old Order Amish families that surround the Cashton area. The Village Shops reflect this long-standing friendship, selling homemade goods from approximately 45 Amish families in the region. You'll find a wide variety of Amish-made furniture, quilts, rugs, baskets, homemade candies, jams and jellies, maple syrup, honey products and so much more! The Kuderers also work with many other local artisans who bring their wares to the gift shops to market to people from around the world. The family is proud to offer these items, in addition to unique giftware Kathy has sought out from the many markets she attends.
Amish Tours With Down A Country Road
Learn the rich history of the Amish with a guided tour through Wisconsin's Amish country. Your groups will learn how this heritage has survived many, many generations and thrives today in the midst of the modern world. Hear of the traditions and customs of the Amish, including why they dress the way they do, their courtship and marriage practices, what it's like to attend Amish church services in the home, and what an Amish funeral is like. All of these experiences are related through the eyes of your experienced tour guide. You'll make stops at one or more Amish farms, depending on the time you have allotted for the tour. For more information or to schedule your group tour, contact Down A Country Road at 608-654-5318 or visit www.downacountryroad.com.
5:45 – 6:00pm
Travel 15 miles to Leon, WI.
6 – 8:00pm
Deep in the heart of downtown Leon, you'll find The Cotter Pin, LLC, a unique place to soak up the local flavors. They offer a variety of wines, craft beers, and light meals to enjoy while you browse the unique gift shop, or just sit back and relax. They also have off-sale retail sales of wine and beer if you would rather enjoy them at home. For more information, contact The Cotter Pin at 608-487-8118 or visit www.thecotterpinllc.org.
8 – 8:30pm
Travel 19 miles back to Westby, WI.
8:30pm
Find history, comfort, and hospitality in one of the best places to stay in Wisconsin. Westby House Inn & Restaurant is a restful and relaxing alternative to hotels in the area. Return to simpler times and indulge in modern luxuries at this beautiful bed and breakfast. The inn includes three separate buildings that offer nine guest rooms. Each building is complete with its own style and atmosphere. All rooms come equipped with many conveniences you would find in a modern hotel, but with all of the added comforts of home. For more information, contact Westby House Inn & Restaurant at 608-634-4112 or visit www.westbyhouse.com.
DAY TWO
8:00am – 12:00pm
Wake up and enjoy Westby House Inn & Restaurant's four-course gourmet breakfast, beginning with fresh juices and coffee, pastries and fresh fruit, and a main entrée to complete this delectable meal. Spend some time at the local shops in Westby and stop back in to the Westby House Inn & Restaurant for lunch or tea before heading to your next destination. Their on-site restaurant serves some of the finest meals and baked goods in the region. The menu selections focus on simplicity and freshness. Enjoy house-made soups and salads, mouthwatering entrées, and fresh Cedar Crest Ice Cream for dessert.
12 – 1:00pm
Travel 54 miles to Warrens, WI.
1 – 2:30pm
Let your groups loose with a self-guided tour of the interactive Wisconsin Cranberry Discovery Center Exhibit Hall. Visit the gift shop, bakery, and vintage soda fountain for cranberry ice cream, cranberry baked goods, wine tasting, and sampling of unique cranberry salsas, dips, chutneys and other treats. The Center offers a menu of lunches, bakery items and desserts if your group needs a snack before heading to your next destination. For more information, contact the Wisconsin Cranberry Discovery Center at 608-378-4878 or visit www.discovercranberries.com.
2:30 – 6:00pm
Continue on from the Wisconsin Cranberry Discovery Center to the nearby Wetherby Cranberry Company marsh. See the marshes firsthand during your tour and enjoy fresh cranberries during harvest as well as Wetherby cranberry wine! For more information, contact Wetherby Cranberry Co. at 608-378-4813 or visit www.freshcranberries.com.
If you visit during the last weekend of September, stop by the Warrens Cranberry Festival! This festival features more than three miles of shopping and more than 1,500 booths. Enjoy tasty cranberry dishes and desserts while you shop!