By Vicky Engelhaupt
South Dakota is the land of infinite variety, full of Great Faces and Great Places. With national parks, Old West history, Native American culture and wide open spaces, there is something for everyone in South Dakota.
South Dakota is home to majestic Mount Rushmore National Memorial featuring faces of four great American Presidents: George Washington, Thomas Jefferson, Theodore Roosevelt and Abraham Lincoln. Mount Rushmore sits just minutes away from hundreds of attractions in the Black Hills including many national and state parks like Custer State Park.
Get prepared for an adventure of a lifetime at Custer State Park where the wild roams free. Nearly 1,300 bison wander amongst dozens of other species of wildlife in this 71,000 acre park. The Buffalo Roundup is held each year in September, hosting thousands of visitors who watch the park staff and wranglers round up the buffalo into corrals to sort and manage the herd.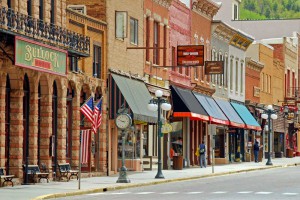 The stories of western outlaws are plentiful in the rough, tough town of Deadwood. The characters of Wild Bill Hickok, Calamity Jane and Sheriff Seth Bullock come alive in this western town. The city continues to restore the once frontier town into a place where your groups can have fun. From Old West history museums, to reenactments of the shooting of Wild Bill Hickok, to trying your luck at gaming, there is something for everyone.
Culture and history is abundant in South Dakota. Take Crazy Horse Memorial for example. This face emerged as a fifth face on a mountain in the Black Hills. Sculptor Korczak Ziolkowski began working on this tribute to Native Americans in 1948. His family continues to work on Crazy Horse, and when complete it will be the world's largest mountain carving, standing 563 feet high and 641 feet long.
East of Rapid City on Interstate 90 is Wall Drug. It is known as the "Number One Roadside Attraction in America, displaying a Frontier Town, an animated T. rex, a world class collection of western art, 26 retail departments and a restaurant with the capability of seating 520 guests.
The awe-inspiring Badlands National Park is a great stop for hiking, or spectacular views across 244,000 acres of breathtaking land. The Lakota named this place "mako sica," meaning "land bad." Purple, yellow, tan and gray, red and orange and white colors with wildlife scattered throughout the park will leave visitors stunned by the beauty of this foreign-looking land.
In eastern South Dakota, explore Fort Sisseton State Historical Park boasting South Dakota's frontier history, one of the best preserved army forts in the nation. De Smet is South Dakota's "Little Town on the Prairie," where author Laura Ingalls Wilder homesteaded. The community still celebrates Laura's life by preserving historic Ingalls sites and hosting the Laura Ingalls Wilder Pageant every summer.
Interstate 29, running north and south in eastern South Dakota, is known as a "cultural corridor." Plan to stop at The Redlin Art Center in Watertown, the new Children's Museum of South Dakota in Brookings, the Washington Pavilion of Arts and Science in Sioux Falls and the National Music Museum in Vermillion.
Sioux Falls offers everything that a group needs for a memorable tour, including abundant shopping, unique restaurants and more than 4,200 hotel rooms. The sight of cascading waterfalls erupting from the prairie will leave visitors in awe at Falls Park. Art lovers can explore the year-round SculptureWalk downtown; and animal lovers can head over to the Great Plains Zoo nearby.
South Dakota is also home to the World's Only Corn Palace in Mitchell. The Corn Palace was built in 1892 as a way to celebrate the harvest. Each year, more than 3,000 bushels of corn, grain and native grasses are used to create the murals that decorate the exterior of the palace.
Perhaps your groups are looking to kick back and relax while they're here. Mapping out a wine trail across South Dakota will allow you to visit more than a dozen winery businesses, some offering wine tasting.
You'll find a variety of events and activities across South Dakota including, ethnic festivals, threshing shows, holiday parades, antique car shows, Western rodeos, Native American pow wows and the great outdoors, that will enlighten and entertain a host of audiences.
Plan your group tour to South Dakota's Great Places to create memories of a lifetime.
The South Dakota Department of Tourism is ready to help you begin planning your trip to South Dakota. Contact Vicky Engelhaupt, Group Tour Representative, at 1-800-952-3625, or visit our website at www.TourSDakota.com for more information.