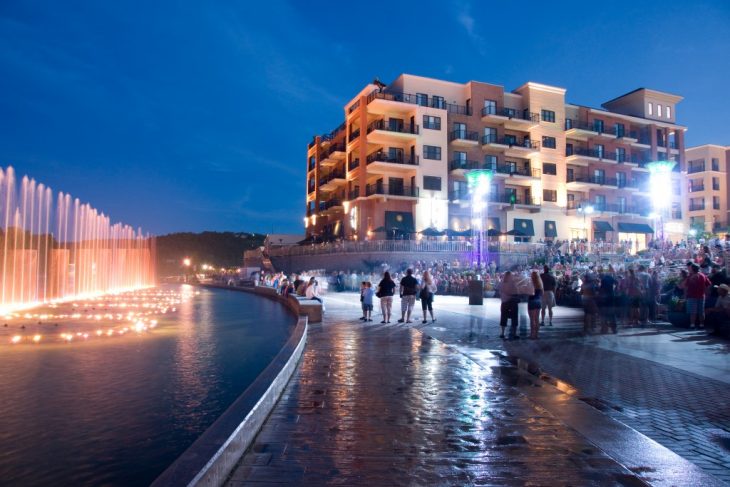 This sample itinerary can be customized for any time of year.
Expect the unexpected as you shop your way across southwestern Missouri. With downtown shopping districts, outlet malls, and antique stores galore, your group has countless opportunities to find exactly what they're looking for.
DAY ONE – Joplin, MO
Welcome to Joplin! Centrally located at the intersection of Interstates 44 & 49 and the birthplace of Route 66, Joplin has unique shopping and history you won't find anywhere else.
10:00am – 2:00pm
Start off your morning with a shopping trip down Main Street. Take a stroll along this historic avenue and pop in and out of numerous boutiques, confectionaries, donut shops, repurposing stores, hobby shops, and more. Several lunch options, from pizza to sushi, can be found along Main Street as well.
2 – 2:30pm
Venture over to City Hall where you'll find two sensational murals: Joplin at the Turn of the Century and Route 66, Joplin, Missouri. Through these massive works of art, you'll get a taste of who Thomas Hart Benton was as an artist and learn how Anthony Benton Gude perceived this city in the mid-20th century.
2:30 – 4:00pm
Head east along Route 66 to Springfield, MO.
4 – 6:00pm
Welcome to Bass Pro Shops®, also known as "The Granddaddy of All Outdoor Stores." As the number one tourist destination in Missouri, this huge sporting goods store attracts over four million families, sportsmen, and outdoor enthusiasts each year. Explore 500,000 square feet of shopping fun, intricate wildlife displays, and other entertainment. Enjoy dinner at Hemingway's Blue Water Café, a full-service restaurant inspired by American author and saltwater fishing legend Ernest Hemingway.
6 – 7:00pm
Travel south along Highway 65 to Heather Hill Farms in Ozark, MO. Open seven days a week, this specialty shop offers complimentary samples of over 175 varieties of cheese and several varieties of wine. Be sure to call ahead before your visit.
7 – 7:45pm
Continue south along Highway 65 to Branson, MO and check into your group-friendly accommodation.
DAY TWO – Branson, MO
7 – 11:45am
Enjoy a group breakfast at your hotel or at a downtown Branson café. Then head over to Dick's Oldtime 5 & 10. Opened nearly 50 years ago in beautiful downtown Branson, this variety store has evolved into a nationally known destination for Branson visitors. Dick's provides hours of entertainment for all ages, and features a vast assortment of merchandise with over 50,000 different items and several unique collections.
11:45am – 1:45pm
Experience a private customized tour with your group! Main Street Lake Cruises is conveniently located at Branson Landing in historic downtown Branson, and offers sightseeing cruises and scenic tours along Lake Taneycomo. Your groups will enjoy breathtaking panoramic views of the majestic Ozark Mountains, take in the immense diversity of Branson's wildlife, and cruise past the Branson Landing waterfront. Lunch included.
1:45 – 3:45pm
It's show time! You can't stay in Branson without taking in a few shows with your group. Catch a matinee this afternoon or even a morning performance. Though Branson was originally known as a mecca for country, bluegrass, and gospel music, today this bustling city offers virtually all genres of music and performance styles: rock n' roll, pop hits from yesterday and today, magicians, acrobats, comedians, variety shows, and seasonal acts for the holidays. In short, there are so many types of shows, that it's easy to find one (or ten) to suit your group!
3:45 – 5:00pm
Head back to your hotel for a bit of rest, and refresh before this evening's entertainment.
5 – 7:30pm
Experience a dinner show like no other at Dolly Parton's Dixie Stampede Dinner Attraction. Thirty-two magnificent horses and a cast of top-notch riders will thrill you with daring feats of trick riding and competition. Enjoy music, dancing, special effects, and family friendly comedy along the way. Owner Dolly Parton guarantees it's "Branson's most fun place to eat!"
DAY THREE – Silver Dollar City Theme Park
8 – 9:30am
Miss Molly's Mill Restaurant is Silver Dollar City's first restaurant and one of the few original buildings on Main Street. Your group will enjoy a hearty breakfast featuring all the best southern morning favorites this side of the Mississippi.
9:30am – 3:00pm
Spend the day at Silver Dollar City Theme Park! Your group will enjoy exciting rides, attractions, world-class festivals, shopping, and unique dining options throughout the park. Stop and watch over 100 craftsmen entertain and demonstrate their crafts. Spring 2018 marks the arrival of the "World's Fastest, Steepest & Tallest Spinning Coaster" known as "The Time Traveler."
3 – 4:30pm
Mel's Hard Luck Diner, home of Branson's original singing servers, is a must-stop! The servers, hosts, cooks, and cashiers are all professional singers, songwriters, and musicians. They offer you a great dining experience seasoned with a song! Ask about the "Climb Every Mountain Ice Cream Avalanche," served on a bed of 12 scoops of ice cream.
4:30 – 6:00pm
Step out the door and enjoy some last minute shopping! Most stores are open until 6pm.
For more information or to customize this sample itinerary for your group, contact your tour operator or the Missouri Division of Tourism at 573-751-4133 or www.visitmo.com.