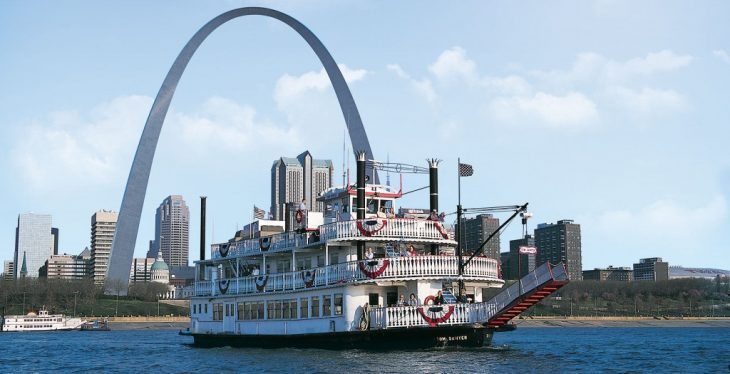 This sample itinerary is best during the warmer months, but can be customized for any time of year.
DAY ONE
10:00am – 1:00pm
The Lewis & Clark Boat House and Nature Center in St. Charles offers something for everyone. On display in the lower level are full-size replicas of the boats that Lewis & Clark's Corps of Discovery used on the Ohio, Mississippi and Missouri Rivers. The keelboat and two pirogues were constructed by volunteers and were used by museum members during their three-year reenactment of the entire expedition during the Lewis & Clark Bicentennial.
The upper level houses the Lewis & Clark Museum, with exhibits related to the expedition, the river and natural habitats they encountered. The museum is self-guided. A brochure explains the exhibits, and an activity sheet helps children explore the museum. A 20% adult entrance fee discount is offered for tour groups of 15 or more, and tour leaders and bus drivers are admitted for free. An orientation program presented upon arrival tells about the facility and Lewis & Clark's stay in St. Charles. Be sure to stop by the gift shop before you leave!
Museum hours:
10am – 5pm, Monday through Saturday
Noon – 5pm, Sunday
For more information or to schedule a tour for your group, contact the Lewis & Clark Boat House and Nature Center at 636-947-3199 or visit them online at www.lewisandclarkcenter.org.
1 – 1:30pm
Travel to St. Louis, MO
1:30 – 4:00pm
Groups will enjoy a visit to the world famous Gateway Arch. Stop in below the Arch to watch an award-winning documentary showing the construction of this landmark, from the first concepts to the final installation. Then journey 630 feet up the Gateway Arch to see magnificent views. Groups will see both the history and culture surrounding the city in this iconic monument.
4 – 5:00pm
Tour the Old Courthouse, the historic landmark where Dred & Harriet Scott sued for freedom from slavery and where Virginia Minor fought for women's right to vote. You will explore exhibits describing how St. Louis served as a hub for early settlers moving westward.
5 – 7:30pm
Check into one of St. Louis' many group-friendly hotels and freshen up for your evening cruise.
7:30 – 9:30pm
Take a relaxing cruise with Gateway Arch Riverboats and discover the best view of the St. Louis skyline from a replica 19th century paddle wheel riverboat. Hear the waters churn and admire the view as you ride along the Mighty Mississippi, where Lewis and Clark completed their historic journey. Take the Skyline Dinner Cruise and enjoy a delicious meal as you take in the city's vibrant nightlife from afar while listening to a live performance of invigorating jazz music. Cruises run March through November, with group rates available for 20 or more people.
DAY TWO
10 – 11:00am
Did your group enjoy the dinner cruise? Stop back at Gateway Arch Riverboats and take a Daily Sightseeing Cruise, narrated by the captain or a National Park Service Ranger who will highlight the history of St. Louis and the Mississippi River's role today. Other specialty cruises are available, ranging from Sunday Brunch to Oktoberfest. There is something for everyone to enjoy!
For more information or to schedule a tour for your group, contact Gateway Arch Riverboats at 877-982-1410 or visit them online at www.gatewayarch.com.