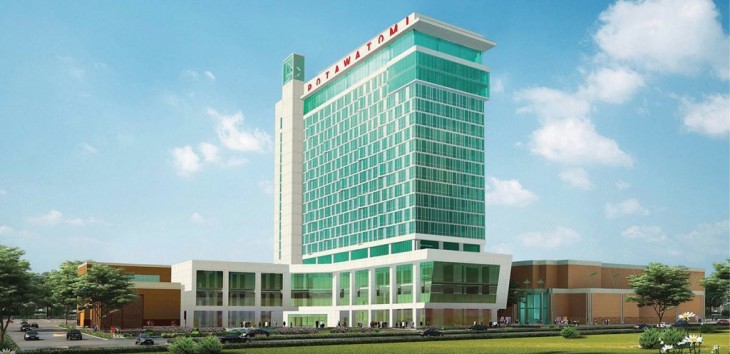 Located just minutes from downtown Milwaukee, Potawatomi Hotel & Casino offers high-stakes bingo, over 100 table games, over 3,000 slot machines, a 20-table Poker Room, a 500-seat theater and an Off-Track Betting Room.
A new icon on the Milwaukee skyline, the Hotel is 19 stories with 381 rooms, featuring floor-to-ceiling windows and one-of-a-kind views of Milwaukee. Only steps away from the best in casino entertainment, sophistication meets comfort in the hotel guest rooms and suites. Modern décor, highlighted by color palettes that reflect natural elements, bring a rich feel to each living space. A built-in bar and breakfast nook bring the comforts of home living to your guest room.
Enjoy food from all over the world. Dining options include The Buffet, The Fire Pit Sports Bar & Grill, Dream Dance Steak, Wild Earth Cucina Italiana, Locavore, the Menomonee Valley Food Court and RuYi. Plus, there is a snack bar in the Bingo Hall. If you're looking for a location to host an event, the Casino offers more than 60,000 square feet of space.
The Northern Lights Theater has a stunning 500-seat, two-tiered layout with booth and table seating on the first level and traditional theater seating above. Add a world-class sound system and personal service that can't be beat and you'll agree—there isn't a bad seat in the house!
Bar 360 lives up to its name and puts you in the center of all the action. Located at the heart of the casino floor, patrons enjoy an excellent view in the spacious full bar with multiple beers on tap, a selection of wines, trendy and traditional cocktails, plus live entertainment several nights a week. This nightlife hot spot is also home to some of the best drink deals in Milwaukee. Grab a seat at Bar 360 and watch the excitement unfold.
Sweet Grass Gift Shop has you covered! Shop for Potawatomi and Wisconsin souvenirs, sundries, fashion accessories, Native American-themed items, sports-themed clothing, gifts and more.
For more information contact Potawatomi Hotel & Casino at 800-729-7244 or online at www.paysbig.com.