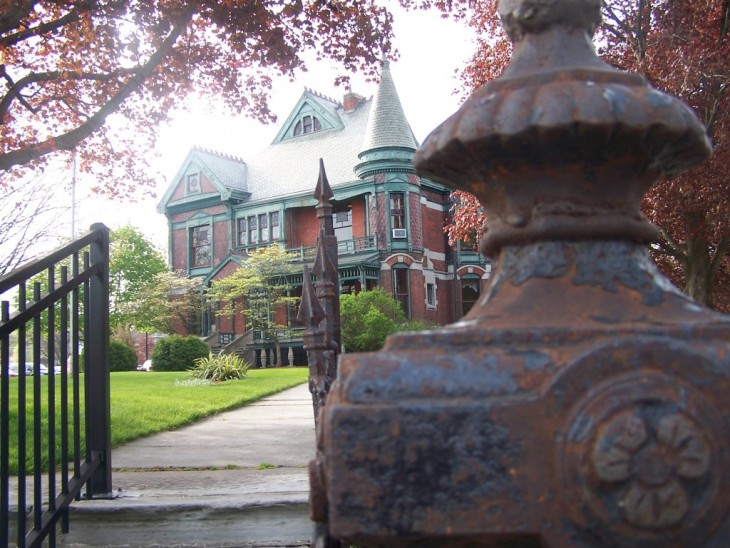 Niles, Michigan
The Niles History Center includes Chapin Mansion and the Fort St. Joseph Museum, located in the property's former carriage house.
The Historic Chapin Mansion is a Victorian-period structure that served as the private home of Henry and Ruby Chapin. Built in 1882, the home contains several ornate stained glass windows, beveled mirrors, impressive brass chandeliers, beautiful hand-carved woodwork, a ballroom and nine fireplaces. Chapin Mansion has entered a multi-year restoration phase, but even now its beauty leaves hundreds of tourists from around the world in awe each summer. Groups are guided through the mansion by knowledgeable docents who will signify the architecture of the mansion, the social history associated with each room of the mansion, and the personal and social history of Henry and Ruby Chapin. If time and weather permit, groups are walked around the outside of the mansion to examine the exterior details and façade. The third floor of the mansion holds a ballroom of great splendor. As it is not safe to show visitors, enlarged photographs are provided to help visualize the various balls, dances and parties that took place in the room. Tours can be customized to a group's interest.
The Fort St. Joseph Museum tells the story of Niles from its colonial start in 1691 to present day. Featured exhibits portray the history of Fort St. Joseph, built by the French in 1691, the story of the Underground Railroad in southern Michigan, and the significance of the railroad and classification yards in Niles' history. Another unique and truly outstanding exhibit features the museum's Lakota Indian collection including 12 pictographs drawn by Chief Sitting Bull. Together the museum's exhibits tell the story of Niles and the contributions its businesses and citizens have made to the world.
Learn more about the past at Fort St. Joseph in their Archaeological Project Site located at a mission, garrison, and trading post complex occupied from 1691 to 1781 by the French and British.
For more information contact Carol Bainbridge at the Niles History Center at 269-683-4700 ext. 4010 or cbainbridge@nilesmi.org.