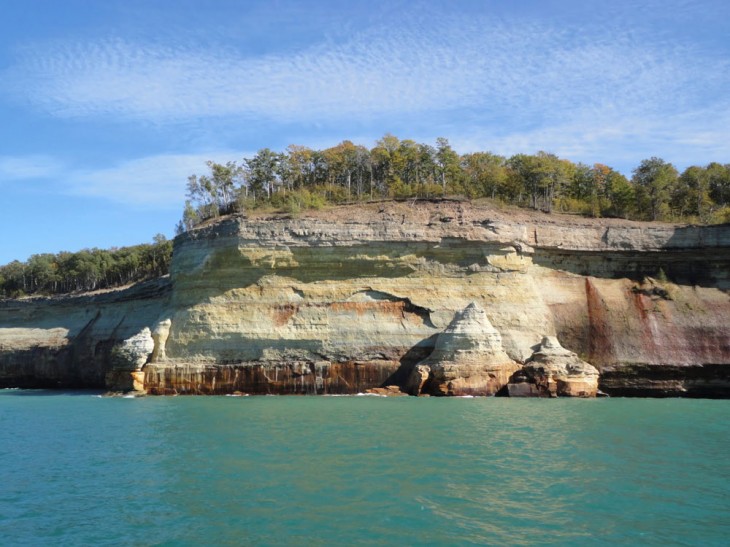 This sample itinerary is best during the spring and summer months, but can be customized for any time of year.
Day One
3 – 4:00 p.m.
Arrive in Marquette Country to a welcoming reception and check in at your hotel.
4 – 7:00 p.m.
Travel to the Landmark Inn in downtown Marquette and enjoy dinner at their Skyroom Restaurant on the top floor, overlooking Lake Superior and downtown Marquette.
Day Two
8 – 9:00 a.m.
After breakfast, meet Fred Huffman from Marquette Country Tours in the hotel lobby.
9 – 11:00 a.m.
Begin the Iron Mining Heritage Tour, featuring Marquette's Home and Harbor District, Presque Isle Park and over 7 miles of scenic Lake Superior shoreline.
11 – 12:30 p.m.
Lunch is at Hudson's Classic Grill & Bar in downtown Marquette; enjoy this classic restaurant that takes a step back in time.
12:30 – 2:00 p.m.
Tour the Michigan Iron Industry Museum in Negaunee Township. Michigan's iron built the rails westward and the skyscrapers upward. Find out what it was like to work underground and follow the trail to the site of the Carp River Forge.
2 – 3:30 p.m.
Return to downtown Marquette for shopping and sightseeing on your own.
3:30 – 4:30 p.m.
Meet at Donckers Candy & Gifts for a Dutch treat sundae or ice cream cone and return to hotel.
6 – 7:30 p.m.
Travel to the Casa Calabria Italian Restaurant in the Village for an evening of great dining in a festive Italian atmosphere.
Day Three
7:30 – 9:30 a.m.
Have breakfast and meet Fred Huffman for the Pictured Rocks Boat Tour in downtown Munising.
9:30 – 12:30 p.m.
Board the boat for the Pictured Rocks Boat Tour on Lake Superior. The crew loves to bring group tours out on the crystal clear blue-green waters of Lake Superior. Explore the splendor of Pictured Rocks National Lakeshore with their knowledgeable staff.
12:30 – 1:15 p.m.
Visit the gift shop following the cruise for that must-have item to take home.
1:15 – 2:15 p.m.
Lunch will be at the Dogpatch Restaurant in downtown Munising for their buffet.
2:15 – 3:30 p.m.
Travel to Munising Falls and view the actual falls and on-site Interpretive Center. Walk the paved quarter-mile trail to the base of the falls. Two sets of stairs lead to platforms to view the 50-foot waterfall as it drops over a sandstone cliff. Watch for ferns, wildflowers, and an occasional mink.
3:30 – 4:30 p.m.
Return to your Marquette area lodging facility.
Say good-bye to Fred Huffman from Marquette Country Tours or talk him into joining you for dinner later at Elizabeth's Chop House in downtown Marquette. The food is always wonderful.
For more information or to customize this sample itinerary for your group, please contact your tour operator or the Marquette Country CVB at 1-800-544-4321 or www.marquettecountry.org