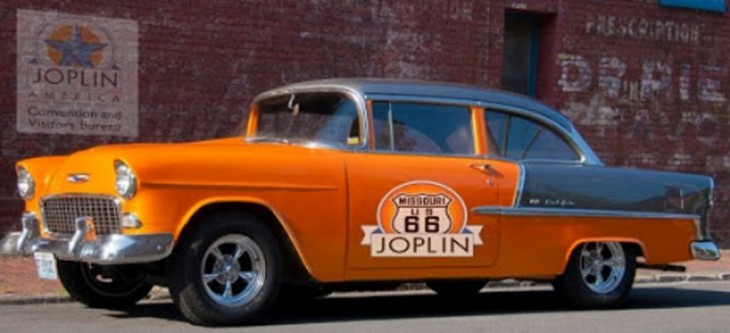 Route 66 consists of 2,448 miles of highway and is sometimes called the Main Street of the Midwestern United States. For many during the Dust Bowl era, Route 66 became their exodus, as immortalized in John Steinbeck's The Grapes of Wrath and his reference to "The Mother Road." Route 66 crosses eight states and Missouri accounts for 347 of the total miles.
The famed route brought traffic, commerce, and notoriety to Joplin. Bobby Troup wrote the song "Route 66" and even named Joplin in one of his verses. In the 1930s, Schifferdecker Park allowed overnight visitors to stay in campers and motor homes. West Seventh Street businesses were also proposed from the influx of daily traffic. Dixie Lee's Dine & Dance, Dutch's Top Hat, Dana's Bo Peep, Keller's Barbeque, and Koronado Kourts were available for the 66 highway travelers.
Between 1975 and 1977, Interstates 44 and 55 became the primary route of travel and much of Route 66 was bypassed. By January 1981, the final section of Route 66 in Missouri was bypassed and the recognizable 66 shields were taken down.
But the old route would not die. As Route 66 historian Joe Sonderman wrote, "Nostalgia buffs and roadside rebels continued to seek out the tourist traps, motels, and gas stations that still held on for life on 66. They clung to the memories of their childhood vacations." It is that nostalgia that pulls thousands of motorists from around the world to drive the famous roadway annually.