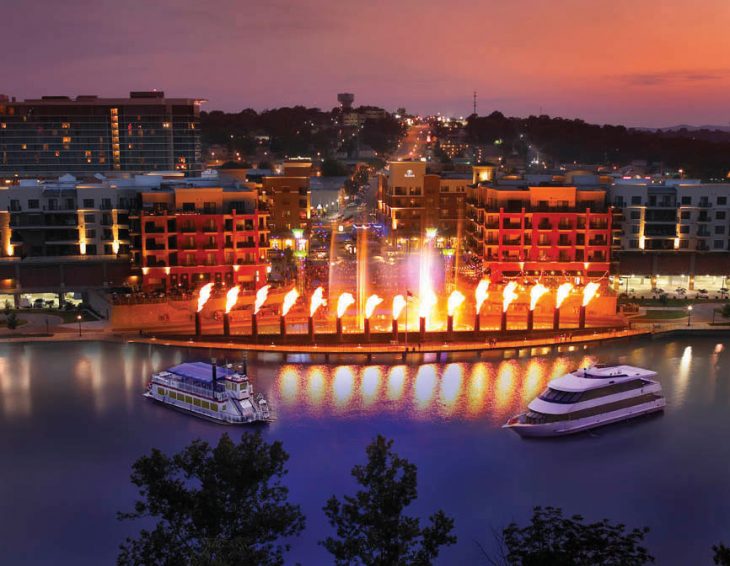 Branson, MO

Enjoy a private customized tour with your group! Main Street Lake Cruises is conveniently located at Branson Landing in historic downtown Branson, and offers sightseeing cruises and scenic tours along Lake Taneycomo. Your groups will enjoy breathtaking panoramic views of the majestic Ozark Mountains, take in the immense diversity of Branson's wildlife, and cruise past the Branson Landing waterfront.
Take a sightseeing cruise on the historic Lake Queen Paddleboat, a 100-foot modern day replica of the grand riverboats that once traveled the White River in Branson, Missouri. Your guide will provide your groups with historical facts and point out historical sites in the area. With wildlife sightings that often range from the American Bald Eagle, Night Heron, and Brown Thrasher, to foxes, coyote, and mink, the Lake Queen offers passengers a unique way to experience Branson's natural beauty and charm.
Charter the Landing Princess, a 100-foot luxury yacht, which is the perfect choice for an elegant and relaxing event with your groups. The Landing Princess features two climate controlled entertainment decks with great views from every seat while providing the ultimate passenger comfort.
Every cruise experience will feature the spectacular performances of the Branson Landing Fountains, a $7.5 million spectacular attraction that synchronizes water, light, sound, and fire.
For more information or to customize an experience for your group, contact Main Street Lake Cruises at 877-382-6287 or online at www.mainstreetlakecruises.com.