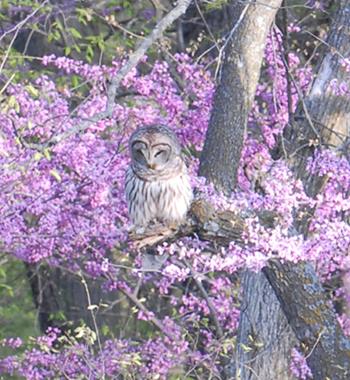 From famous handmade candies to bobolinks; from hay bale art to the "banana room"; from custom motorcycles to Amish tours—Lucas County offers a variety of unique stops to include in your group tour itinerary!
Lucas County is home to two of the state's designated Bird Conservation Areas (BCA), which include public and private lands focused on two units of Stephens State Forest. To date, 185 species of birds have been identified. Schedule your visit around the Lucas County Birding Festival May 5-7, 2017. There will be field trips and workshops for experienced and novice birders as well as opportunities to see lots of birds as they migrate north to their nesting grounds. In spring, the blooming redbud trees in the state park and forest areas are an especially beautiful backdrop for photos.
Lucas County is also home to the state-of-the-art distribution facilities of Hy-Vee grocery stores. Schedule a tour for your group and get a behind-the-scenes look at how groceries are received, stored, and shipped throughout the Midwest. See how bananas are ripened in special rooms, how ice is manufactured and bagged, and how it feels to work in an enormous freezer.
Other great tours in Lucas County feature agritourism, Amish culture, museums, quilt shops, and more.
For more information or to customize a tour for your group, contact Tourism Lucas County at 641-774-4059, or visit them online at www.lucascountytourism.org.