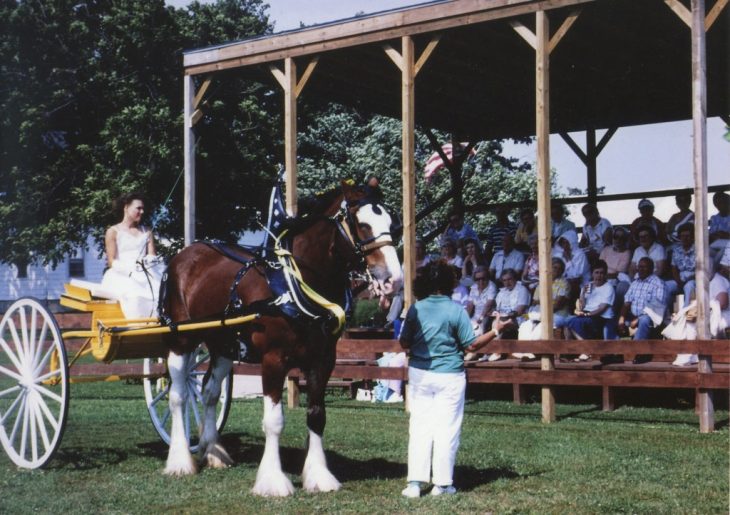 Ripon, Wisconsin
When you hear the word "Clydesdale" you think of Budweiser, right? Well, did you know that the Midwest is home to its very own "Famous Clydesdales?" Larson's Famous Clydesdales is one of the only places in the United States where visitors can see fourteen of these beautiful creatures, up close and personal.
Owners Judy and Cal Larson have watched over these gentle giants for over 28 years. Their dream was to assemble a famous six-up hitch full of siblings, all from one mother and father. It took ten years to make it happen and Cal says that as far as he knows, this has never been accomplished before. The Larsons' love of big horses is a family affair, with all four of their children having competed and won Junior Championship Awards. Cal and Judy's six-horse hitch of Clydesdales has won the National Championship, among many other honors. With Cal doing all the training and driving of their six- and eight-horse hitches of Clydesdales, it really is quite a show.
Groups have the opportunity to come to the ranch and experience a down-home feel and see what it takes to make it all happen. During the tour you'll enjoy watching "Big Bud" getting harnessed, as well as a demonstration of a cart class, antique hitch wagons, and a museum. Judy will be your tour guide and gives a humorous and personal tour guaranteed to bring a smile to your face. She reels off her daily lectures in an energetic, encyclopedic fashion that is sure to keep your group entertained. This 90-minute guided tour is truly exciting, capped off with a short Grandstand Show. Pat and take pictures with champion Clydesdales and even meet a rare baby Clydesdale. Be sure to visit the Souvenir Shop!
Open mid-May through mid-October, rain or shine. Shows start at 1:00pm, Monday-Saturday. For more information or to reserve a tour for your group, call 920-748-5466 or visit them online at www.larsonsclydesdales.com.