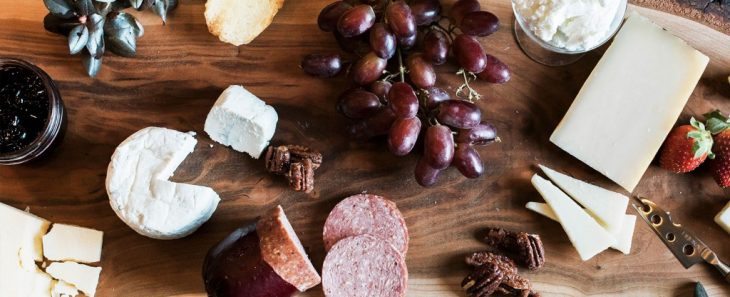 Malone, WI
LaClare Farms is a family-run dairy goat farm located in southeastern Wisconsin. Spend a few hours or the whole day exploring this beautiful, group-friendly facility.
Larry and Clara Hedrich (the "La" and "Clare" of LaClare Farms) started their dairy goat operation in the late '80s. After a few years of showing their goats throughout Wisconsin and Michigan, they decided to go commercial, milking goats by machine. After working with a local dairy plant, they crafted their first batch of Evalon, their trademark cheese made from 100% LaClare Farms milk. This signature cheese went on to win several awards, and soon this operation became a household name in the cheesemaking world.
See Larry and Clara—along with their five grown children—operate this family business, which now houses a state-of-the-art dairy goat operation, farmstead creamery, Retail Shoppe, and Café serving up mouth-watering menu items that feature award-winning cheeses made fresh from goat, sheep, or cow milk. Tours are offered from Memorial Day weekend through October. Choose from daily guided tours (11am and 2pm) that will take your group through the cheesemaking process. See the milking facility where up to 400 goats are milked daily. You'll also have the opportunity to pet and feed the baby goats on this one-hour tour. Self-guided tours are also available during business hours, seven days a week from 10am to 7pm.
Day on Farm Tours are offered from mid-August through October and are available for groups of 20 or more on Mondays and Tuesdays. This tour takes you through The Little Farmer—also located in Malone—in addition to LaClare Farms' dairy goat operations.
Be sure to check out the many events held throughout the year at LaClare Farms. Experience a Meet the Producer Dinner event, hosted year-round on the second and fourth Thursday of each month. Enjoy a multi-course dinner made with locally sourced ingredients and paired with a local brewery or winery. It's truly an evening you won't forget!
For more information or to schedule a tour for your group, contact LaClare Farms at 920-670-0051 or visit www.laclarefarm.com. Please note there are no cheesemaking activities on Saturdays or Sundays.