Words like milkmaid, goat herder, and farmer probably conjure up a certain image, but probably nothing like the reality of meeting Sharon Oamek, owner of Honey Creek Creamery and certified cheese maker. Sharon makes a quality goat's milk cheese that customers clamor for. And yes, she is a goat herder…extraordinaire. "There is nothing like the tang of fresh Iowa goat cheese!" Even more special is the tour she offers to groups from March to November.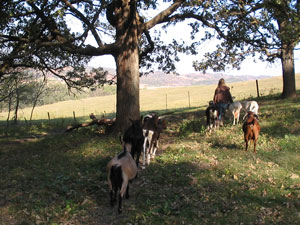 Sharon says her "dairy tale existence" began when she acquired two goats back in the 1990s. At that time, she was looking for hiking companions and comic relief. Her life and career with the Federal Reserve took an unusual turn when she and her husband purchased his great grandfather's farm, established in 1891, and moved to Iowa. Her hiking goats, two boys, moved to the farm and a whole lot of girl goats were purchased. Then the work started in earnest.
Located just ten miles from the Omaha/Council Bluffs border and set in the geological masterpiece called Loess Hills (pronounced Luss Hills), Honey Creek Creamery is the only certified dairy in Iowa west of Des Moines. The unique landforms of the area are found only here and in China and offer rich, chemical free alfalfa and native plants on which to feed. The result is a fresh, lively cheese with a smooth and creamy finish. You'll have to bring your group to experience it first hand.
Moving into her third year of hosting groups at her century farm, Oamek is as good with her tours as she is with her cheese. There is a large U-shaped driveway to accommodate the coach. No backing up required. Tours last about an hour to hour and a half and can accommodate groups of up to 60. "Everybody always likes seeing goats," says Oamek, "they are so much fun." So she begins by introducing the goats. Recognizing that people who come to this type of tour are lifelong learners, and generally appreciate experiencing an operational farm, she gives them what they want. There is some fun goat trivia interspersed with opportunities to touch a goat's soft ears, learn about the different breeds, and interact with the goats in whatever way visitors are comfortable. You can even milk a goat if you'd like!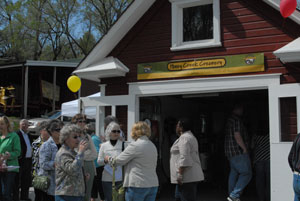 There is a tour of the milk parlor which is really a 1911 bunkhouse. It's been nicely renovated of course, but that explains the old fireplace inside. Next, it's on to the processing center where you will gain an understanding of the cheese making process. The processor came from the Netherlands, and the bulk tank from Italy.
Did you know goats' milk is a complete protein and contains every essential amino acid? It's the closest thing to human milk and more beneficial to health than cows' milk. With great love and joy, Sharon turns the milk into chevre goat cheese, with its mild flavor derived from the Loess Hills vegetation and enhanced by local fresh herbs and seasonings. From mom (called a 'darn') to cheese, the process takes four days with something being required from Oamek every day. That means her traveling days are over.
But Sharon doesn't mind. "It's a pretty nice life," she acknowledges. From the beauty of the Loess Hills tapestry of scenic views, to the relationship she has with her animals, to the excitement of getting to meet the very people she would have otherwise sought out back in her traveling days, to the support of a community that shows they want her to succeed, Sharon knows she has something very special. She loves that customers like to share how they are using the cheese and offer their own ideas. She loves that sort of "yes-I-like-it-and-I-want-more" attitude. And she loves that satisfying sense of creating something that comes with each day's efforts.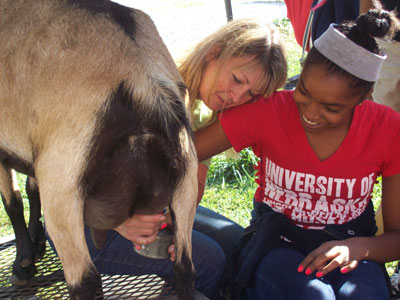 When groups come to the Honey Creek Creamery, Oamek is completely in her element as she shares with them the wonder of this new life she has created. The challenges of the start up are all behind her and "now it's just the fun part!" The tour is a treat for the senses, as you will see as soon as you arrive. View the extraordinary setting and enjoy the smells of the processing room, such as fresh bread. Touch the goat's soft coat or even try milking one. Listen to the comforting sounds of the farmstead cheese crop and taste the creamy chevre cheese, uniquely delicious.
Like other members of the Living Loess collaborative, Honey Creek Creamery offers tours the third Saturday of the month from March to November. Naturally for a coach tour you will want to call the Creamery to set up your own private tour. The cost is $5 per person, with free admission for the driver and escort. To arrange a tour for your group, contact the creamery at 402-690-9252. And here's some news from a real goat herder: she's thinking about expanding into goat's milk ice cream!