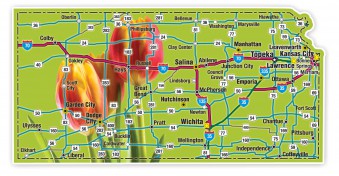 This sample itinerary may be customized for any time of year!
Day One– Liberal, Kansas
1 – 3:00 p.m.
Follow the yellow brick road to the Land of OzandDorothy's House. The Land of Oz consists of 5,000 square feet of animated entertainment—good and bad witches, Munchkins, talking trees, winged monkeys, and of course, Dorothy, the Scarecrow, Tin Man, the Cowardly Lion, and Toto too! Dorothy's house has been carefully restored and furnished to replicate the house shown in the movie. Discover why "there's no place like home."
3 – 5:00 p.m.
Check in to your hotel and relax before dinner. Liberal has a nice selection of group-friendly hotels to choose from.
5 – 7:30 p.m.
Dine at The Salty Dog, abeautiful, newly remodeled restaurant in the basement of the historic Landmark Center, for a fine dinner. They offer banquet facilities and a full-service bar.
Day Two
8 – 9:00 a.m.
Have breakfast at the hotel or The Pancake House, an "almost-everything-made-from-scratch" dining experience with over 30 varieties of pancakes, crepes and waffles.
9 – 10:30 a.m.
Spend the morning at the Mid-America Air Museum. Call for group rates and to arrange a guided tour. Whether the interest is general aviation, warbirds, helicopters or experimentals and home-builts, there's something to spark the imagination in this collection.
10:30 – 2:30 p.m.
Head east on Hwy 400 to Pratt, Kansas
Your group will enjoy getting dropped off and finding that special gift or needed refreshment at Pratt's main street business district.
2:30 – 6:30 p.m.
Enjoy the ride along Hwy 400 to Emporia, Kansas
Take a short stop in Emporia and you'll find several blocks of historic buildings and unique architecture. Discover local eateries, chocolate & coffee shops, antiques, and boutiques.
6:30 – 8:00 pm
Head to your final destination of Merriam, Kansas
Merriam has several group hotels for you to choose from and great group tour services to make your stay all the better.
Day Three
–
Merriam, Kansas
8 – 9:30 a.m.
Does it get any better than starting your day at Strawberry Hill Povitica? Experience the magic that goes in to making the world-famous Strawberry Hill Povitica, while sampling various flavors of their delectable swirled bread. Enjoy a free cup of coffee while you learn about Strawberry Hill's rich cultural heritage.  Your mouth will be watering by the end of this tour! Be sure to purchase a loaf or two to take home!
9:30 – 11:00 a.m.
The K.C. Strings Violin Shop offers pre‐scheduled tours to view the woodshop, retail location and conservatory for groups of 25+ people. With instruments sold worldwide and played in symphonies across the globe, K.C. Strings craftsmen are sure to impress your group with their master craftsmanship and expertise in creating these exquisite stringed instruments. Offered Monday through Friday at 10:00 or 10:30 a.m. and must be arranged with the Merriam Visitors Bureau.
11 – 2:00 p.m.
Topeka, Kansas
Harvey House Luncheon & Tours includes a great meal and a tour of "The Station." Docents and Harvey Girls will explain the history of the railroads, the station, the All Veterans Memorial and the Harvey Girls. There is also an opportunity for you to win a Santa Fe medallion during the presentation. Luncheons and tours are offered to groups of 25 to 100. The tables are decorated with tablecloths, cloth napkins, and a centerpiece that includes real red roses. You will also receive a pamphlet that describes the history of the Harvey Girls. Don't miss this great opportunity to bring your clubs, bus tours, and church groups to enjoy great food, fun, and education!
2 – 3:30 p.m.
Gaze in wonder at one of the most beautiful recreational outdoor areas in Northeast Kansas. On top of the natural beauty of the landscape, view more than 50,000 tulips and daffodils at the Ted Ensley Botanical Gardens.
3:30 – 5:00 p.m.
Experience Topeka in its original state at Ward-Meade Park & Old Prairie Town. Enjoy tulips, lush gardens, and an old-fashioned cream soda.
5 – 8:00 p.m.
Check in to your hotel and then head to dinner at Brickyard Barn Inn. This "farm home turned bed and breakfast" features beautiful views, tulips and delicious meals made with fresh, local ingredients. Tour the Inn and enjoy a delightful dinner.
Day Four
–
Salina, Kansas
8 – 1:00 p.m.
Rolling Hills Zoo & Wildlife Museum welcomes you! The 64,000-square-foot museum takes you around the world to experience the delicate symmetry between humans, animals and nature in seven unique regions, from the arctic to the rainforest. Rolling Hills Wildlife Adventures offers a variety of activities for all ages and all types of groups.
1 – 4:00 p.m. –
Cloud County
Tour the National Orphan Train Museum in Concordia, Kansas. From 1854 to 1929 over 250,000 orphaned or abandoned children from New York were taken on trains to new homes all over the United States. Nominated as one of the "8 Wonders of Kansas History," a visit will amaze and touch your heart like no other museum.
4 – 8:00 p.m.
Check in to your hotel and then set out for an evening of fun. Cloud County Tourism can help you to find that perfect group dining experience.
Day Five
8:00-10:00 am
Take a short drive to Clyde to see Bob's Toy Barn. This collection will amaze
you. You will see toys from tractors to space ships. It's a trip back to childhood you will not soon forget.