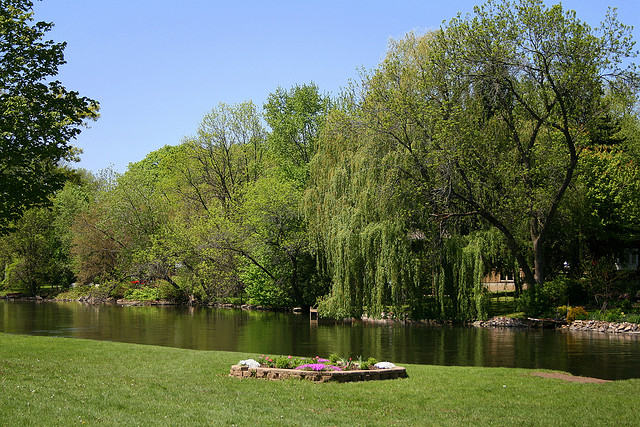 This sample itinerary can be customized for any time of year.
Located on the banks of the Yahara River, Stoughton is a treasure chest of Norwegian heritage and Victorian architecture. Located within driving distance of Chicago and only minutes from Madison, Stoughton is the heart of Southern Wisconsin.
10 – 11:30am
Start out the morning learning about the area's Norwegian heritage and why Stoughton is credited with the first "coffee break" on the Step on Tour. This tour includes visits to authentic churches in the area, the Stoughton Historical Museum and the Opera House.
11:30am – 12:30pm
Enjoy an authentic Norwegian lunch at the Sons of Norway Lodge. Indulge in Norwegian meatballs, potatoes, carrots, cucumber salad, riscreme and other Norwegian desserts.
12:30 – 1:30pm
Watch Norwegian demonstrations of rosemaling and hardanger (Norwegian needlework).
1:30 – 3:00pm
Stoughton's Main Street will take you back to another century. Walk through historic storefronts and explore the unique shops, galleries and specialty stores.
3 – 5:00pm
Take a stroll through Lake Kegonsa State Park. Located on the Yahara River, you will find beauty and wildlife. The park is great for hiking and water sports year round as well as cross-country ski trails in the winter.
5 – 6:00pm
Check into a local Stoughton hotel and freshen up for dinner.
6 – 7:30pm
A hearty dinner awaits you at Halverson's. Located near the shore of beautiful Lake Kegonsa, Halverson's has been serving the Stoughton community since 1927.
7:30 – 9:00pm
Catch an evening performance at the Stoughton Opera House. During the fall and spring months you will find acts ranging from doo-wop to classical, comedy to drama in this beautifully restored Victorian theater.
For more information or to customize this sample itinerary for your group, contact the Stoughton Chamber of Commerce at 888-873-7912 or online at www.stoughtonwi.com.