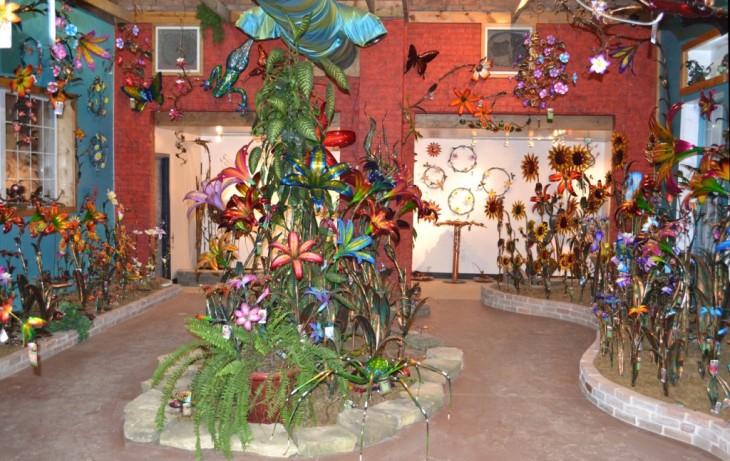 This sample itinerary can be customized for any time of year
DAY ONE
9 – 10:00 am
The Amana Colonies have been a treasure on the Iowa Prairie for over 150 years, welcoming groups to an experience that's as unique as you are. Located just minutes from I-80, the seven villages of the Amana Colonies offer you the opportunity to step back from today's busy pace, to relish in the comfort of locally crafted foods, furniture, art and more.
10 – 12:00 pm
Visit the Heritage Society for an unusual group tour of the Amana Colonies. Choose from a few unique history tours. All tours can be customized to your group's needs. The Amana Colonies Barn Tour Experience explores the unique history of agriculture through the architecture of barns. Take the bus tour to different communal barns and see the largest modern continual farm in the state of Iowa.
12 – 1:00 pm
Amazing metal sculptures at AJ's Copper Garden Art Gallery will bring out the smiles as you stroll through a beautiful water garden and gallery filled with one-of-a-kind garden frogs, dragonflies & much more.
1 – 2:00 pm
Your group can experience lunch on their own at one of the local eateries. Amana is world famous for American and German food served "family style."
2 – 4:00 pm
Pay a visit to the Ackerman Winery/Heritage Wine, Cheese & Jelly Haus—the oldest winery owned and operated by one family in the state of Iowa. Take a walkthrough tour of their cellar and observe where the wines are produced, aged and bottled. Step up to the sample bar and choose from over 24 varieties of wines.
4 – 4:30 pm
Head to Coralville and check in to the Country Inn & Suites for a great stay in a great location, near such attractions as the Iowa Museum of Natural History and Kinnick Stadium. All accommodations are completely furnished and have complete amenities your group will love.
Evening
For your evening entertainment, why not catch a show at the Riverside Theatre? Showcasing classic plays, new plays, musicals, a monologue festival, and more.
DAY TWO
8 – 8:30 am
Enjoy breakfast at the hotel before heading to West Branch and the Herbert Hoover Presidential Library & Museum.
9 – 11:00 am
The Hoover Library & Museum enables visitors to experience the many sides of our nation's only Iowa-born president. The permanent galleries begin with Hoover's boyhood in Iowa and continue on to New York where he spent his final years. In the Hoover Library, learn about President Hoover's life and career using manuscripts, photographs and oral histories.
For more information or to customize this sample itinerary for your group, please contact your tour operator or Lori Reese with Hospitality Investors at 763-263-6366or LReese@hospinv.com.

View Iowa City, Coralville, and Amana – A Little Bit of Iowa History in a larger map