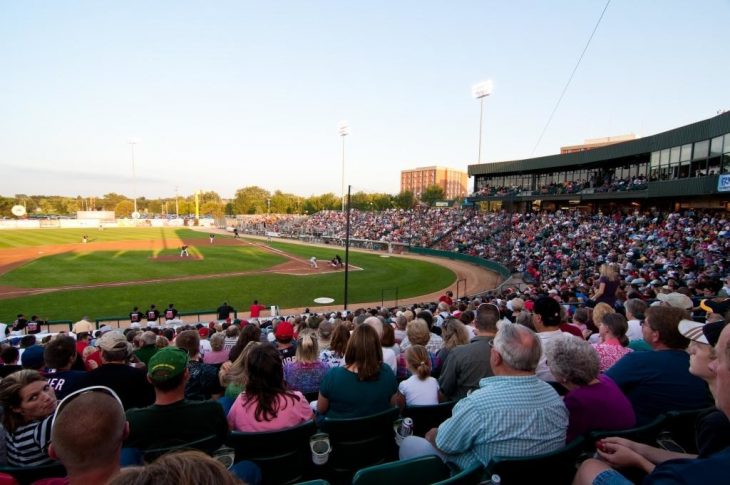 This sample itinerary is best during the spring and summer months, but can be customized for any time of year.
DAY ONE
9:00am – 12:00pm
Thirty-five miles south of Fargo is Fort Abercrombie. Known historically as "the Gateway to the Dakotas," this fort once guarded vital transportation routes and served as an important supply point for military campaigns traveling into the Dakota Territory in the 1860s. Learn about the fort's role in the U.S.-Dakota War of 1862 and see the mountain howitzer, uniforms, and equipment.
12 – 4:00pm
Blue skies prevail year round at the Fargo Air Museum, a premier flying museum in the upper Midwest. View exhibits dedicated to the brave men and women who have served and are serving in the Armed Forces, such as: History of the ND Flying Aces, ND Air National Guard, cloud modification, and agricultural aviation. View military displays featuring WWII, Korea, Vietnam, and Iraq and Afghanistan wars.
4 – 7:00pm
Take a ride on "Ruby," the Scheels Ferris Wheel, in the Upper Midwest's largest sporting goods store. From Ruby, you will have the perfect vantage point to view all of the 88 specialty shops at Scheels. This huge shopping facility also offers an old-time shooting gallery, two 5-sport simulators, and a golf simulator. Work up an appetite and grab a bite to eat at one of the area's many group-friendly restaurants.
DAY TWO
10:00am – 1:00pm
Your day begins at Cass County Historical Society's Bonanzaville. View 43 historic buildings and over 400,000 artifacts. Located in West Fargo, Bonanzaville is the area's premier tourist attraction. Come see Fargo's First House, Donbrinz Schoolhouse, St. John's Church, the Embden Train Depot, the Houston House, the automobile museum, the tractor museum, the airplane museum, or one of many other collections! There is always something new to see at Bonanzaville.
1 – 4:00pm
Shop at familiar retailers, unique boutiques, and other stores at the West Acres Mall, which also features distinctive dining and events. Located within the shopping center is the Roger Maris Museum. Dedicated to former New York Yankee and Fargo native Roger Maris—who hit a record 61 homeruns during the 1961 season—the glass-enclosed museum enables visitors to re-live Maris's legendary life. View a replica of his 1961 locker, explore displays and artifacts from his youth and Major League playing days, or watch historic footage in the video room while sitting on actual Yankee Stadium seats from the Maris era.
4 – 6:00pm
Welcome to Newman Outdoor Field, home of the Fargo-Moorhead RedHawks! Before tonight's game, you'll want to pay a visit to the Maury Wills Museum, located on the ground floor of the stadium. Dedicated to the career and life of former National League MVP and Los Angeles Dodgers star Maury Wills, this museum invites you to relive a little history and hear this man's wonderful story. Wills achieved fame when he broke the record for stolen bases in 1962. He stole 585 bases during his MLB career and won the Gold Glove Award in 1961 and 1962. Wills served as a coach to the RedHawks in their inaugural year (1996) and today sits in the radio booth as a "Voice of the RedHawks."
6 – 9:00pm
Relax and enjoy a Fargo-Moorhead RedHawks game! Nothing says summer like baseball, a hot dog, a beer, and a three-run walk-off homer in the ninth. Ask about their special group packages! For more information, visit www.fmredhawks.com or call 800-303-6161.
For more information or to customize this sample itinerary for your group, contact the North Dakota Tourism office at 800-435-5663 or visit them online at www.ndtourism.com.