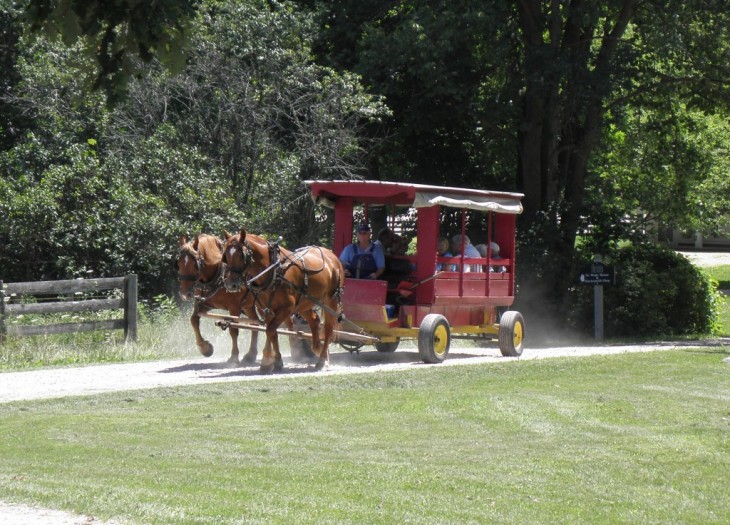 This sample itinerary can be customized for any time of year.
Located in Sheboygan County, Plymouth is nestled in the gently rolling hills of the Kettle Moraine. This quaint town is an ideal place for visitors to rest, relax, and rejuvenate.
DAY ONE
10:00am – 12:00pm
Start your morning with a visit to the Plymouth Historical Museum, where you will discover the history of Plymouth through numerous displays of local history. On the second floor of the museum you will find the Stahlman Library. This research library contains a collection of rare and unique local and national books that can be viewed in-house.
12 – 1:30pm
Lunch will be served at Greenbush Cupboard Café. The selection of fresh, delicious offerings is sure to delight any member of your group. Relax in the inviting ambience of the café and choose from a variety of freshly made sandwiches, pizza, baked goods, and hot & cold beverages.
1:30 – 4:00pm
Step back in time at the Wade House Historic Site. This site celebrates the world of plank road stagecoach travel in the mid-19th century, featuring an inn and Wisconsin's largest collection of restored carriages and wagons.
4 – 6:00pm
Head north and make a stop at Henschel's Indian Museum & Trout Farm and learn about the area's Native American history. Henschel family land has yielded evidence of 10,000 years of human occupation. Examine the items to trace the lives and times of the original culture inhabiting the area.
6 – 8:00pm
Dinner tonight will be at The Black Pig. Enjoy comfort food with a twist! The food is locally sourced and prepared from scratch.
DAY TWO
10:00am – 12:00pm
History buffs will love spending the morning on the Historic Walking Tour where you will see Plymouth's most historic and interesting sites, including the Walldogs murals!
12 – 3:00pm
Now that you have seen some of Plymouth's most interesting places, explore for yourself in historic downtown. Find a bite to eat at a local shop and then explore antiques, books, vintage clothing, jewelry, art and Parisian-inspired gifts in the downtown specialty stores.
For more information or to customize this sample itinerary for your group, contact the Plymouth Chamber of Commerce at 920-893-0079 or online at www.plymouthwisconsin.com.