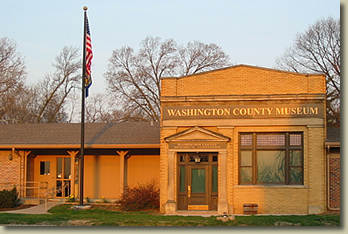 Located in eastern Nebraska, Washington County is brimming with history. It is home to Lewis & Clark's first council with the Otoe and Missouria native tribes and is considered the doorway to the west. The Washington County Historical Association provides a wealth of exciting and educational attractions for your next group tour.
Fort Atkinson State Historical Park
This reconstructed 1820s log fort is one of the premier historical sites in Nebraska and sits on 157 acres atop "Council Bluff," the site of the first meeting between the 1804 Lewis & Clark Expedition and the Otoe-Missouria. The park is open daily from May through October, offering guided tours. Living history reenactments take place the first weekend of the month from 10am to 5pm, both Saturday and Sunday.
Historic Frahm House
Located at 15th and Madison Streets in Fort Calhoun, the Frahm House is a site worth visiting again and again. It was built in 1905 by Fred Frahm for his bride Sarah Beales and was added to the National Register of Historic Places in 2006 due to its significant architecture, which combines elements of Queen Anne style with Colonial Revival style. Everything in the home is the same as the day it was built, with the exception of a few modernizations (electricity, running water, a sewer system, and a furnace). The Frahm House is open in the summer for tours, teas, luncheons, and special events.
Tractors Tall & Small Event – August 9th, 2014
This annual antique tractor show is located in and around the Washington County Museum. View displays of antique tractors, machinery, vintage motorcycles and trucks, as well as toy farm tractors and related collections inside the museum. Other points of interest include: a woodworkers' display and sale, corn shelling with vintage shellers, food booths, and a wedding dress display. Free trolley rides are available throughout the day to Fort Atkinson and the Frahm house.
Washington County Museum
This is the oldest county museum in Nebraska, housing artifacts from prehistoric times, Native American garments and equipment, and relics from nearby Fort Atkinson. Early farm tools, school and household items, as well as fine china brought from "the old country" depict how the pioneers lived in the 1800s. A display of Thomas Edison items and early telephone equipment moves the visitor into the 20th century.
Contact the Washington County Historical Association and get more info about custom tours for your groups: 402-468-5740 / www.wchamuseum.com