When looking for quality group travel, think of Iowa! We're located right between the mighty Mississippi and historic Missouri Rivers in the very middle of America. And because we're already group-friendly, we can host your group with tours they will long remember. Whether your group is out for a daytrip, or on a longer tour, we are on the way to…everywhere! Destinations all over our state continually groom travel opportunities for tour groups, making us a state with many great travel trade partners!
HERITAGE…
American heritage – Iowa-style – is alive all over the state.  Your tour groups can enjoy ag tours and wine tasting at our many wineries. Looking for interesting industry tours? How about furniture building, crafts and wood carving, just as our ancestors did? No matter the heritage you select, we're sure your group will go home talking about their great tour!
FESTIVALS…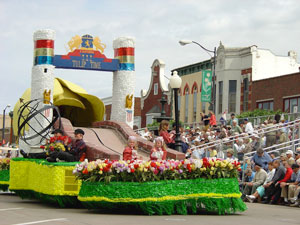 Festivals are more than rides and cotton candy in Iowa. (Though tour groups love our State Fair, one of the largest – and best, we've been told – in the United States!) You'll see first hand why Iowans are so proud of these traditions.  Come celebrate everything from tulips (Orange City & Pella), to bridges, and our famous stars (tour groups love our ever-popular Glenn Miller Festival)!
ATTRACTIONS…
Unusual attractions abound for unusual group experiences unique to Iowa. How about a great art collection by the Masters (Charles City) – Surprised? Maybe a zoo trip that gives your group time with a lion trainer (and the lion!) Or lunch in a rain-forest setting (Blank Park Zoo)? Would your group like to see the fish that swim in the mighty Mississippi (Nat'l Mississippi River Museum & Aquarium)?
ENTERTAINMENT…
Maybe a bit of Broadway? We can offer you exceptional entertainment during your group's tour.  Enjoy the soothing sounds of the symphony, laugh to your hearts content at the theater, discover unique shops all over the state, or try your hand at lady luck, at casinos on land or water! Let us entertain you!
EXCELLENT FOOD & LODGING…REST ASSURED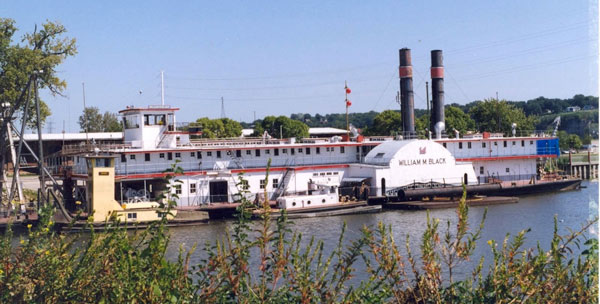 You'll find a taste that will suit every palate  – from the great Midwestern "gimme" corn on the cob – to German, Dutch, Czech, Italian, Mexican, and more good 'ol American fare (and everything in between). Enjoy tempting dishes in any setting, from casual to candlelight, even on a rolling dinner train!  Plus, you, as a group travel planner, can be rest assured that your groups will rest well indeed in the many fine, group-friendly lodging facilities of our state, that includes historic boutique hotels, resorts and other exceptional properties.
IOWA HELPED BUILD AMERICA…
Iowa is blessed with an abundance of history, from Victorian homes, museums and landmarks, to entire towns – where stepping back in time is as easy as walking through the front door. Created by people whose life journeys began in our great state, some of whom include: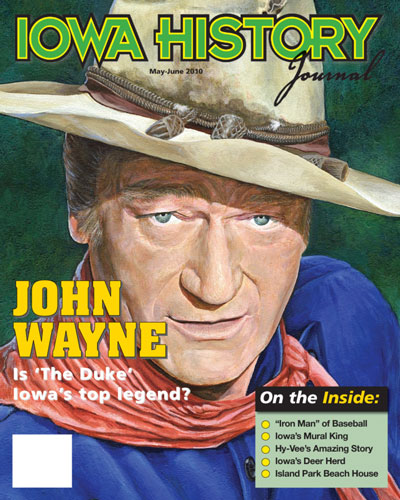 Johnny Carson, TV entertainer, Corning
William "Buffalo Bill" Cody, scout, LeClaire
Mamie Doud Eisenhower, U.S. First Lady, Boone
Bob Feller, pro baseball pitcher, Van Meter
George H. Gallup, pollster, Jefferson
Herbert Hoover, U.S. president, West Branch
Ann Landers, columnist, Sioux City
Abigail Van Buren, columnist, Sioux City
Cloris Leachman, actress, Des Moines
Glenn Miller, bandleader, Clarinda
Harry Reasoner, TV commentator, Dakota City
Donna Reed, actress, Denison
Lillian Russell, soprano, Clinton
Billy Sunday, evangelist, Ames
John Wayne, actor, Winterset
Andy Williams, entertainer, Wall Lake
Meredith Willson, composer, Mason City, and
Grant Wood, artist, Anamosa
REMEMBER…WE'RE ALREADY GROUP-FRIENDLY!
Since we have been hosting groups for years, you can be confident that when we invite you to come for a day or a week, we mean it! Want to see Iowa for yourself first? Then come for a personal FAM and let us show you how we will treat your groups…coachload after coachload!
For more information, call Iowa Group Travel Association at 641-420-9003, or go to www.iowagrouptravel.org.