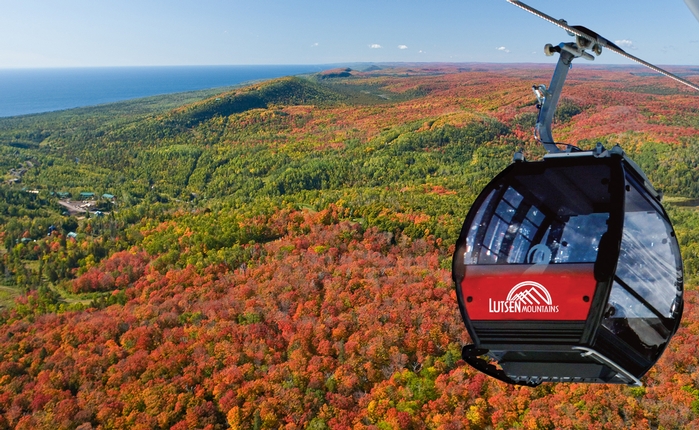 Lutsen is the perfect balance of proximity; close enough to many attractions and cities, yet far enough to take you a world away. A tour around Lake Superior or along the North Shore is not complete without riding on the Midwest's only aerial tramway. This scenic gondola brings your groups over the Poplar River valley and through vast woodlands. Once you have landed at the top of Moose Mountain, enjoy the Summit Chalet and many other activities and food options they have to offer. Listed below are some of the many experiences waiting for you at Lutsen Mountains:
Mountain Tramway
One of the North Shore's most popular attractions, this aerial gondola takes you on a scenic ride to the top of Moose Mountain, which rises 1,000 feet over Lake Superior. While you are enjoying this gentle treetop ride, it's likely you will spot ruffed grouse, eagles, pine marten, deer, bears, timber wolves and moose, as well as unbelievable views of Lake Superior and the Sawtooth Mountains.
Summit Chalet
Relax and enjoy the Northwoods ambience at the Summit Chalet and order a meal or a snack from the casual eatery at the top of Moose Mountain. The Mountain Tramway will take you right up to the Chalet.
Voyageur Canoe Tours
10-passenger Voyageur canoes are available for your groups to discover the headwaters of the Poplar River as the early fur traders once did. Deer, otters and waterfowl are commonly sighted, with moose, bear and timber wolves seen occasionally.
Hiking Trails
Lutsen features several miles of hiking trails, including the famed Superior Hiking Trail. Combine a hike with a ride on the Mountain Tram for easy access to mountaintop trailheads that lead you through wildflower meadows and deep forests, past waterfalls, wildlife and spectacular mountain overlooks.
Papa Charlie's
Serving lunch or dinner with a creative Northwoods menu, your groups will enjoy fresh food and the finest regional ingredients served in a casual atmosphere. Stop by for a meal in the dining room, bar area, or outside on the deck overlooking Moose Mountain.
Alpine Slide
If your groups are up for the thrill, the Alpine Slide is ready to oblige! Riding the leisurely chairlift ride to the summit of Lutsen's Eagle Mountain is only half the fun! Once you reach the top, hop on your sled and cruise down an exhilarating half-mile of twisting, turning track back to the base.
For more information or to customize a trip for your group, contact Lutsen Mountains at 218-663-7281 or visit them online at www.lutsen.com.