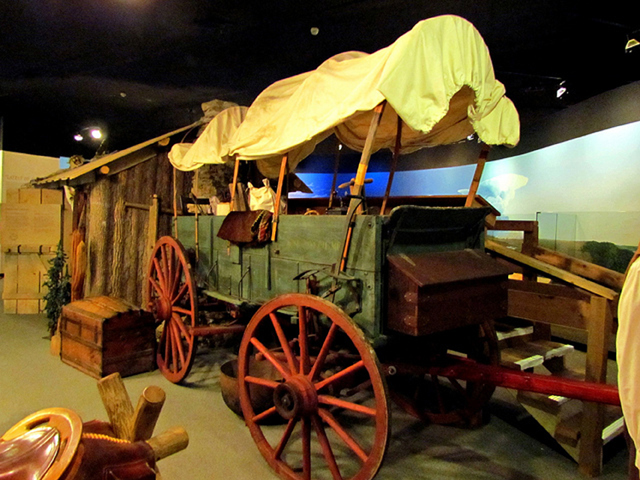 This sample itinerary can be customized for any time of year.
Day One
1:00 – 2:30 pm           
Mount up and head for the Pony Express Museum. The famous mail delivery service started within these walls on April 3, 1860 (150 years ago).  Your guide will give a personalized tour of exhibits covering the creation, running and demise of the Pony Express.
2:30 – 4:00 pm
The Patee House was the headquarters for the Pony Express in 1860 and the finest hotel west of the Mississippi. Today, it offers a "hands on" look at St. Joe's colorful history.  Stroll down Old Main Street, climb aboard a steam engine and visit the little house where Jesse James was shot and killed. Enjoy the Wild Thing Carousel, which is fun for all ages.
4:00 – 5:15 pm
Arrive at the Remington Nature Center, where history and nature collide. As your journey begins, a 10,000-year-old woolly mammoth greets your group. Follow the indoor "river" past a 7,000-gallon aquarium teeming with native Missouri river fish. Wild animals abound as you pass a howling wolf. A beaver lodge blocks a creek and forms a habitat for many animals. Learn about Missouri animals as you watch their tracks appear before you.
5:15 pm
Check in at a group friendly hotel of your choice.
6:30 pm           
Smaller and more intimate than most typical venues, the Robidoux Landing Playhouse is perfect for making the audience feel part of the performance. Enjoy great food and be prepared to laugh at some entertaining characters and their historical humor.
Day Two
9:00 – 10:30 am
A visit to Tobiason's Studio is first up this morning. They have over 50 years of experience designing, fabricating, installing and restoring church windows throughout the country.  See all styles, whether traditional or contemporary, executed in stained glass, faceted glass or etched and carved glass. Come and see how they create these timeless, beautiful and architecturally harmonious windows. You also have the experience of creating your own stained glass "angel."
10:30 – 11:45 am
Tour the Shakespeare Chateau Inn and Gardens, built nearly 130 years ago by Nathan Ogden who filled it lavishly with the best of everything that money could buy. High atop a bluff looking down across the city toward the Missouri River, this mansion is one of several in the Hall Street Historic District known locally as "Millionaires' Row."  The home boasts 47 original artisan-crafted stained glass masterpieces.
11:45 am
Enjoy lunch at the Gothic House Tea & Eatery, featuring soups, entrees and desserts made from scratch with menus differing from week to week.
For more information or to customize this sample itinerary for your group please contact your tour operator or the St. Joseph Missouri CVB at 800-785-0360.

View Entertainment Along the River in a larger map