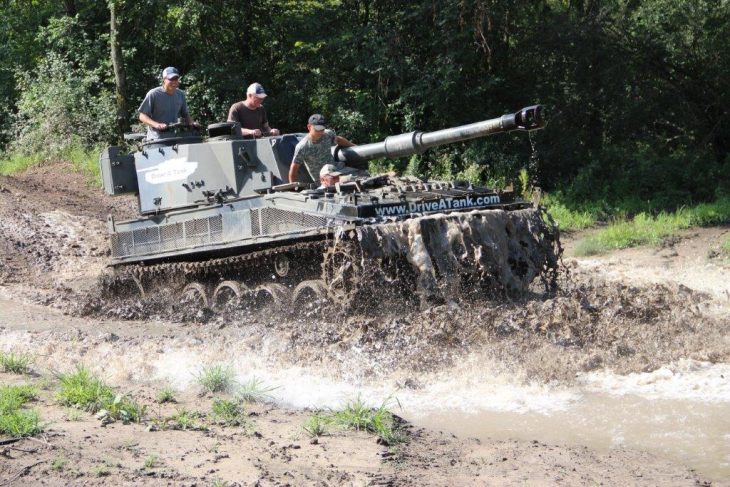 Written by: Kathleen Somers
One of the great satisfactions of working with groups is making people happy. Often times it's the little things that accomplish that: value added items, games played on the bus, meeting new friends, special treatments like receptions or treats at destinations; those wonderful special touches that allow your caring ways and likeability to shine through. But sometimes it's the big things. Sometimes it's the destination. Sometimes it's dreams coming true. And that is pretty much what happens all the time at Drive A Tank.
Certainly no ordinary adventure, Drive A Tank offers your group a once in a lifetime experience like none other. In fact, there is no other place anywhere in the United States where you can do this. So people come from all over the world to a tiny town in Minnesota, about an hour and fifteen minutes south of Minneapolis/St. Paul, just north of Mankato, to a place called Kasota. Apparently, if you build it they really will come!
Drive A Tank is exactly what the name suggests: a chance to drive authentic tanks and shoot machine guns, all in a safe environment. A real live military experience without the war! Owner Tony Borglund didn't set out to have such an unusual business. On a trip to England with his dad they noticed such places abound. "The Brits are proud of their military heritage," said Borglund, "unlike here in the U.S. where we keep it more hidden." An idea was hatched. "Tanks are cool and people will pay money to drive them." Soon they purchased a bunch of vehicles in England and began the process of moving them to the United States.
The company has only been around for about a decade. The challenge of adhering to all the government and safety regulations, getting the proper permits in place, and even just finding a location for such an undertaking was almost as huge as the idea itself. But the motivation was just as big: Provide folks with "one of the coolest things they've ever done." It's awesome and it's crazy and it truly is a chance to step out of the ordinary and do something unusual. And you know what? People love it. Maybe you've got a group who would love it, too.
Let's face it. Most people have never driven a tank. This military theme park allows you to drive a tank, crush cars, and shoot machine guns…all under one roof—so to speak. And, the government does not own it. Provide your group with their own armored mini-military adventure. All the tanks are British tanks. There is a 45-minute safety briefing to start, and then a battlefield with all sorts of terrain (even a path through the woods) to drive your tank on. There is car crushing and an indoor firing range for automatic weapons. And it's really easy. If you can figure out your left from your right, you can drive a tank. Plus, who doesn't like shooting a machine gun?!
You may think Drive A Tank appeals only to men, but you'd be wrong. As Borglund pointed out to me: "Chicks dig tanks too. The ratio is not 50/50, but it's closer than you'd think." And age? Not much of a factor. The oldest customer was a 96-year-old man who had no problem doing any of the stuff, according to Borglund. Yes, it's pretty extreme, but anyone can do it. Maybe that's why retired persons love it so much.
Then there is Diane, a self-professed adrenaline junkie who was 74 last year when she traveled up from Missouri to tick yet another item off her bucket list. Diane just met the height limit at 4'11''. She said she was afraid to ask if there was a minimum weight requirement since she weighs a mere 77 pounds. She may be little but she's mightily determined. They had to put a cushion under her bottom so she could see out the peephole. Her experience? "They were extremely nice and extremely accommodating." It took three days to wipe the smile off her face. While the guns on the tank are actually disabled for safety reasons, the indoor shooting gallery satisfies your need to shoot at things. Diane shot a Thomson AK47 and the crew at Drive A Tank even told her "I want you on my team." I'm guessing you don't want to mess with Diane. "It's quite an adventure," she reports. "I'd do it again in a heartbeat."
For a little extra fee, and a whole lot more fun, you can drive that tank over a car or motorhome or even a trailer house! The power of a 15-ton machine at your disposal just makes you want to crush things. Diane told me, "I just think everyone ought to do it. We had a wonderful time." She added, "I was high for three days after…it pumps the adrenaline so much."
What about your group? Want to help make some dreams come true? "Tanks are a mysterious machine," Borglund points out, "different from the norm." Perhaps that's why they provide such a memorable experience. The best way to start your group on an awesome, crazy, and memorable adventure is to give Tony a call (507-931-7385). He will design an experience that fits perfectly for your group. Plan on about half a day, but it really depends on the package you choose. He even has an option for an MRE lunch in the field (that's military lingo for "meals ready to eat"). No matter the size of your group, Borglund can make it fit—fit the group and suit the person.
"I've never told anyone, 'No, that's too big a group,
we can't do it.' We'll always figure it out."
However it gets figured out, know this: Nobody ever wants to leave.