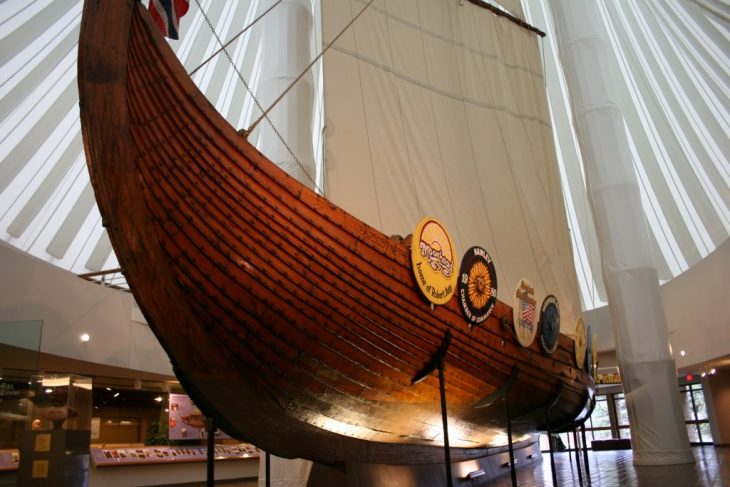 This sample itinerary can be customized for any time of year.
The Historical & Cultural Society of Clay County invites you to explore the history and rich heritage of the area. With many activities and places to visit, your groups will get a feel of what the ancestors of this area accomplished.
10:00am – 12:00pm
Your adventure begins at the Heritage Hjemkomst Interpretive Center. Get an up close view of the jaw-dropping Hjemkomst Viking Ship. This 76-foot-long exact replica of a Viking dragon ship was a dream-made-reality from the creator Robert Asp. The ship sailed from Duluth to Bergen, Norway in 72 days. The exhibit recounts the saga, worthy of a Norse legend.
12 – 2:00pm
The Norwegian heritage doesn't stop there. Take a guided tour of the Hopperstad Stave Church. This church is a full-scale replica of the Hopperstad Church that is located in Vik, Norway. Discover the unique architecture that thrived just after the Viking age in Scandinavia.
2 – 4:00pm
A presentation by A Woman's Perspective Art Exhibition and Events is hosting Aprons Galore! See collections of vintage, modern, traditional and contemporary art aprons worn by men, women and children. On display through June 20th, 2016.
OR
Check out a collection of artwork by local Fargo-Moorhead artists at the FMVA Big Art Show. View works by art educators, emerging artists, and established artists and learn about their inspirations and techniques. On display through June 10th, 2016.
4 – 6:00pm
Explore the history of alcohol in Clay County at the Wet and Dry: Alcohol in Clay County 1871-1937 exhibit. Explore the spirited debates surrounding the morality of alcohol, from its Wild West birth through the end of Prohibition, encompassing three major periods: Settlement, the Saloon Era, and Prohibition,
6 – 8:00pm
Enjoy a group-friendly dinner at one of the area's local favorites, such as Doolittles Woodfire Grill or Texas Roadhouse. Then wind down at your group-friendly accommodation.
For more information or to customize this sample itinerary for your group, contact your tour operator or the Historical & Cultural Society of Clay County at 218-299-5511 or go online for current exhibits & events at www.hcscconline.org.