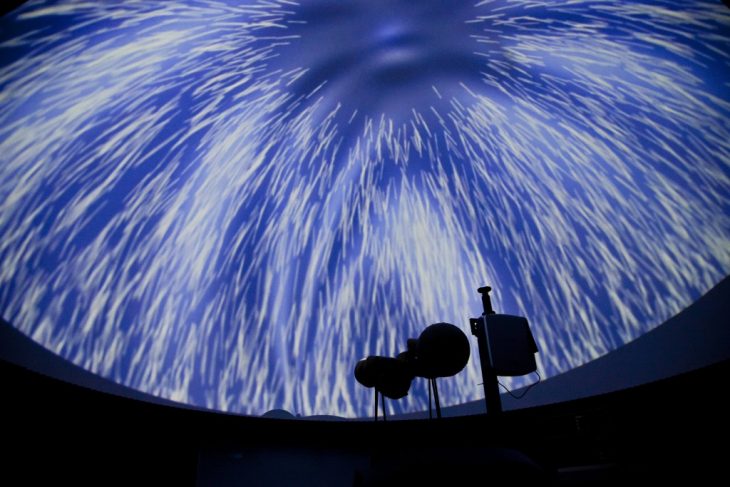 Explore the planets and the known universe at the Planetarium at Minnesota State University Moorhead. At the heart of the planetarium is an Elumenati digital projector with UniView data visualization software. The result is a multimedia presentation that will awe, amaze, entertain and educate viewers of all ages.
The planetarium has two different types of shows. Choose from a variety of live shows presented by a trained lecturer or a variety of fulldome movies—educational films developed specifically for planetariums. Below is a list of live shows and fulldome movies offered at the MSUM Planetarium. For a complete list, visit www.mnstate.edu/planetarium.
Stars of the Seasons
See the current night sky and identify the principal constellations, bright stars, and planets. This show introduces the motion of the stars and planets as they are viewed from earth.
Sunstruck
Discover the wonders of our sun and how its incredible energy has supported life on earth for millennia, but is now threatening our way of life. Your groups will travel to the distant future and discover the sun's connection to the universe's cosmic cycle of life and death.
Two Small Pieces of Glass (Fulldome Movie)
Join two young astronomers at a star party and learn how telescopes work, the history behind them, and some of the major discoveries made by these instruments.
Cosmic Colors: An Adventure Along the Spectrum (Fulldome Movie)
Have you ever wondered why the sky is blue? Or why Mars is red? Take an amazing journey through the world around us, and the universe, under a rainbow of cosmic light.
For more information or to find the right show for your group, contact the MSUM Planetarium at 218-477-2920 or online at www.mnstate.edu/planetarium.