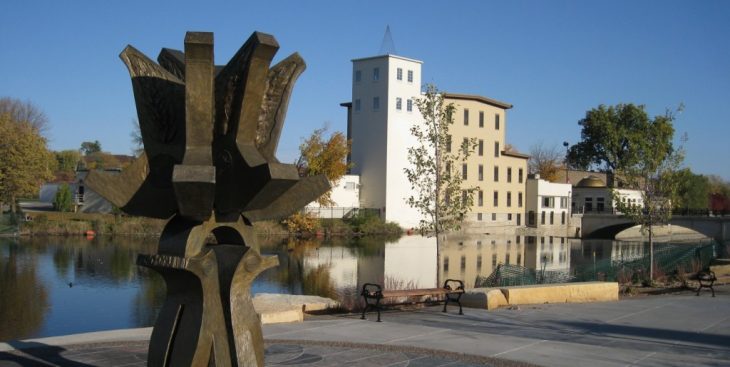 This sample itinerary can be customized for any time of year.
Along the banks of the Cannon River lies the charming Minnesota town of Northfield. With its 150 years of history, art, culture and education, Northfield offers something for everyone.
DAY ONE
11:00am – 1:00pm
Enjoy lunch at one of Northfield's newest restaurants: Fielders Choice Tap & Table. This group-friendly establishment features local craft beers, artisan liquors, and a menu full of delicious burgers, brick oven pizzas, and unique entrees.
1 – 3:00pm
Carleton College offers many attractions, including numerous ways to enjoy the natural world. Cowling Arboretum is the ideal place to hike, run, ski, fish, or simply enjoy the outdoors. The upland and lowland forests, along with the 150-acre prairie restoration, provide excellent bird and wildlife watching. The Japanese Garden embodies a philosophy of fulfillment found in harmony and tranquility of body, mind and spirit. It is frequently recognized as one of the best Japanese gardens in the country and is a great place to relax and meditate.
3 – 4:00pm
Discover Northfield's unique history at the Northfield Historical Society & Museum. See the bank that the James-Younger gang attempted to rob in 1876. As one of Northfield's most famous attractions, the museum preserves the site as it stood on that fateful day.
4 – 6:00pm
Self-Guided Downtown Walking Tour & Sidewalk Poetry
A local historian will take your group back in time as you view Northfield's historical architecture as it looked a century ago. The tour includes such landmarks as the Archer House, the Scriver Building, the Grand Event Center, Nutting House, and more. Pick up your walking tour brochure at the Northfield Historical Society or Northfield Chamber of Commerce.
OR
Visit & Taste at Northfield Olive Oils & Vinegars
Northfield Olive Oils & Vinegars strives to bring the freshest extra virgin olive oil from around the world to Northfield and its surrounding communities. They take pride in providing naturally fused and infused extra virgin olive oils that achieve the perfect flavor aesthetic. Additionally, their authentic Traditional Style Balsamic Condimento is made in Modena, Italy from the highest quality Trebbiano grapes.
DAY TWO
11:00am – 1:00pm
Start your day with apple picking at Fireside Orchard & Gardens. Discover all your favorite Minnesota varieties, such as Zestar!®, Haralson, Fireside, Regent, Honeycrisp, and Keepsake, as well as other popular apples like Cortland and McIntosh. The orchard also carries a great assortment of jams, jellies, Minnesota cheeses, honey, maple syrup, soups, and other goodies. If you time it right, you may also find fresh sweet corn, raspberries, grapes, tomatoes, squash, and other treats from the garden. And of course there are plenty of pumpkins for Halloween!
1 – 3:00pm
Take a class or visit one of the many events at the Northfield Arts Guild. Founded in 1959, the Arts Guild is one of the oldest art nonprofits in the state of Minnesota.
3 – 5:00pm
Take a short drive up St. Olaf Avenue to St. Olaf College and take in the beautiful fall leaves on campus. Known as "The Hill," St. Olaf College's picturesque 300-acre campus is home to 17 academic and administrative buildings, 29 student residences, and 10 athletic facilities. Adjacent to campus are 325 acres of restored wetlands, woodlands, and native tall grass prairie owned and maintained by St. Olaf. You'll also see a utility-grade wind turbine that supplies up to one-third of the college's daily electrical needs. Two buildings on the campus are listed on the National Register of Historic Places: Old Main, designed by Long and Haglin; and Steensland Library, designed by Omeyer and Thori. In 2011, Travel+Leisure named St. Olaf as one of the most beautiful college campuses in the United States. St. Olaf College is also home to the Flaten Art Museum, which began its life as the Steensland Art Gallery in 1976. The museum holds a collection of regional, national, and international works, as well as faculty and student work.
For more information or to customize this sample itinerary for your group, contact the Northfield CVB at 800-658-2548 or online at www.visitingnorthfield.com.