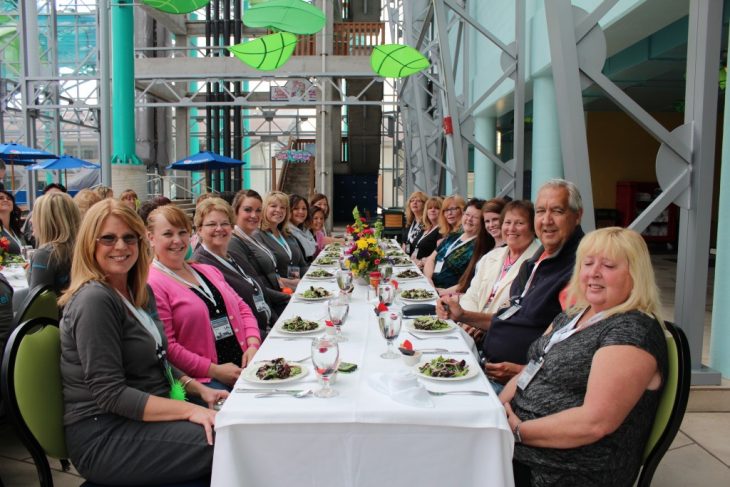 By Kathleen Somers
If you think Michigan's "Little Bavaria"—the quaint town of Frankenmuth—is famous for serving up chicken dinners and year-round Christmas shopping, then you'd be right. But if you think your group has had the true Frankenmuth experience—shopping the world's largest Christmas store and then indulging in an all-you-can-eat world famous chicken dinner—then you've missed the boat. Literally! The boat is an authentic paddlewheel riverboat named the Bavarian Belle. Treat your group to a fabulous narrated tour of Frankenmuth along the Cass River. The family-owned Bavarian Belle is handicap accessible and holds 150 passengers. You may even choose to do a little wine and chocolate pairing while aboard. This serene cruise is the perfect way to introduce your group to Frankenmuth and discover its rich history.
Like so many good stories, it's best to start at the beginning. The roots of this German community go back to 1845 when a small group of German-Lutheran missionaries migrated to the area to teach Christianity to the native Chippewa people. But while the colonists were busy settling in, clearing the land and building their houses, the nomadic Chippewa were leaving the Frankenmuth area in search of hunting grounds. They had no interest in being "Germanized and Lutheranized." Undeterred, those early settlers managed to construct a combination church-school-parsonage log cabin. The church was named St. Lorenz, after their mother churches (there were three of them) in Bavaria. Only about 35 Native Americans were taught and baptized at the little church, and eventually the Chippewa mission in Frankenmuth closed. Yet the immigrant congregation continued to prosper and grow.
The name Frankenmuth combines two German words: Franken represents Franconia, the Bavarian province where the settlers came from, and muth means "courage." The direct translation means "courage of the Franconians." It was to be an exclusively German-Lutheran community where colonists remained loyal to their home country and faithful to her language. Today you will see that influence all over town: in the architecture, the festivals, attractions, food, and so much more. There's the famous holz-brücke, or covered bridge, made completely of wood and spanning 239 feet across the Cass River. Many groups like to tour the sanctuary of the beautiful and historic St. Lorenz Lutheran Church. You can even attend service there if your stay includes the weekend. For an authentic German experience, take your group to the monthly German service on the second Sunday of the month at 11am. Anytime is a good time to hunt for gnomes and their homes. Check with the visitor's center for details. There is enough to do in Frankenmuth to keep your group delighted for days. Hey! How about that Christmas store?
Tell a Michigander you've just returned from Frankenmuth and the first thing they'll ask is "Did you go to Bronner's?" You'll want to include lots of time in your itinerary for Bronner's Christmas Wonderland. A wonder indeed, as this "world's largest Christmas store" is the size of one-and-a-half football fields! The Frankenmuth staple is a shopper's delight, with over 50,000 items to choose from. Your group will thank you if you plan time for a return trip the next day. And as long as you are right there on Christmas Lane—which, by the way, is illuminated nightly—why not visit the Silent Night Chapel? It's an exact replica of the one in Obendorf, Austria where the Silent Night hymn was first sung in 1818. The chapel collects translations of the song in every language possible and they're all on display.
Christmas might be big in Frankenmuth, but can anything ever really top how groups feel about food? Let's face it: good food added to any group adventure makes the experience all the more memorable. Frankenmuth hospitality won't let you down. German brats and entrées, Michigan's finest craft breweries, samples of sweet cupcakes from an award-winning bakery, and Bavarian style treats are great for starters. You'll find confectioners offering melt-in-your-mouth fudge or chocolates, taffy pulling, premium ice cream, and luscious coffee or hot cocoa to perk up the weary shopper.
Of course you'll need to include one of those world famous chicken dinners. The tradition dates back to 1856 when the Exchange Hotel first opened. Chicken dinners were more of a luxury than beef or steak back then. Serving all-you-can-eat, family style meals was a nod to the farm life where owners got their start. Today, the town has two restaurants offering these famous chicken dinners: Bavarian Inn Restaurant and Zehnder's of Frankenmuth. So large are these eateries, that combined, they could serve the entire population of Frankenmuth all at once, seating 2,700. Your group will enjoy lightly breaded, fried chicken with all the sides: garlic toast, cheese, noodle soup, cabbage salad, cranberry relish, mashed potatoes with gravy, and sherbet. Yum! Oh, there's more, but my mouth is watering so much that I just had to stop here and mention that both places also serve lunch and dinner, plus a gluten free menu.
For something extra special, you might like to engage your group in a hands-on activity, such as roll-your-own German pretzels. The short lesson uses a German children's poem to teach the art of pretzel knotting. Take a group lunch break while your pretzels are baking.
The town's Woolen Mill offers free tours that include a narrated explanation of wool processing. View century-old machinery that transforms raw materials into products for bedding, as well as an assortment of yarns for roving and hand spinning. Ninety years of manufacturing wool-filled bed products makes for a very entertaining tour. Oh, and be sure to plan a little time for Glockenspiel Tower, located at the Bavarian Inn Restaurant. Its 35-bell carillon and beautiful figurines tell the story of the Pied Piper of Hamelin—a great photo op! Across the street in front of Zehnder's Restaurant, find another photo op at the fountain constructed in 2012 to celebrate the city's 50-year partnership with sister city Gunzenhausen, Germany.
From its many popular festivals to its variety of museums, including the Military & Space Heroes Museum (housing the country's largest collection of medals of honor), Lager Mill Brewing Museum (honoring the city's long tradition of brewing), Frankenmuth Historical Museum (highlighting community history), to wineries, shopping, and Bavarian architecture, Frankenmuth is always the delight of motorcoach groups. Perhaps because of the charming Bavarian architecture, or maybe it's the beautiful cascading flowers and landscapes, but it's like taking a step back to a more peaceful, friendlier time. Come for a day or a week and never run out of attractions your group will love. Take your time. In such a comfortable, picturesque setting, you might even enjoy a hub-and-spoke tour just as an excuse to stay a little longer.