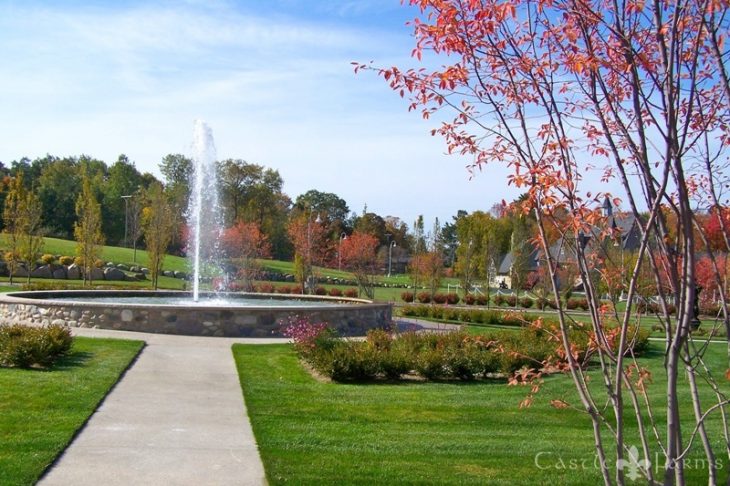 This sample itinerary can be customized for any time of year. 
Conveniently located a short distance south of Mackinaw, Charlevoix is an easy add-on for groups coming into Michigan.
DAY ONE
11:00am – 4:00pm
Step back in time with a visit to Castle Farms, one of Michigan's premier historical attractions. This French Renaissance-style castle offers the perfect blend of old-world charm and modern-day elegance. A tour of Castle Farms, built in 1918, offers a fascinating glimpse into the property's unique history.
Guided tours include:
Soaring towers and stone buildings
Sweeping gardens based on European design
Vintage collections of castles, toys, and royalty memorabilia
1918 museum featuring ladies' fashion accessories, household items, children's games, and WWI artifacts
The castle's Outdoor Model Railroad is a must-see, featuring more than 70 G-scale trains operating on 2,500 feet of track—the largest in the state of Michigan. Book your tour in advance and treat your groups to farm-to-table or restaurant-style dinners, soup and sandwich lunches, pizza, and sweet treats.
To book your Castle Farms group tour, and to select menu options and pricing, please contact Kayla Eggers, Group Tour Specialist, at 231-237-0884 ext. 224, or visit castlefarms.com.
4 – 7:00pm
See beautiful Lake Michigan from the water! Take a ride on the 130-passenger Keweenaw Star, docked in the heart of Charlevoix, just south of the US 31 drawbridge. The Keweenaw Star offers many varieties of afternoon & sunset cruises to fit your group! To book your cruise, contact Keweenaw Excursions, Inc. at 231-237-9365.
7:00pm
Balcony views of Lake Michigan, a timeless Earl Young stone fireplace to warm you—this is just the beginning of your unique experience at Weathervane Terrace Inn & Suites. Relax in the heated outdoor pool and enjoy the view of Lake Michigan in the Charlevoix air and sun. Rest up for your adventures tomorrow!
DAY TWO
9 – 11:00am
Wake up to a bountiful continental breakfast by the pool at Weathervane Terrace.
11:00am – 1:00pm
Have you heard of the Earl Young Mushroom Houses? Unique only to Charlevoix, your groups will be guided through a tour around the triangular block bounded by Park Avenue, Grant Street, and Clinton Street. Here you will see some of the most famous and most beloved work of long-time Charlevoix resident, Earl Young. These homes were built or remodeled beginning in the late 1930s, culminating in the construction of the "mushroom house" in the 1950s. Tours are offered through the Charlevoix Historical Society: 231-547-0373 or online at chxhistory.com.
For more information or to customize this sample itinerary for your group, contact your tour operator or the attractions listed above.