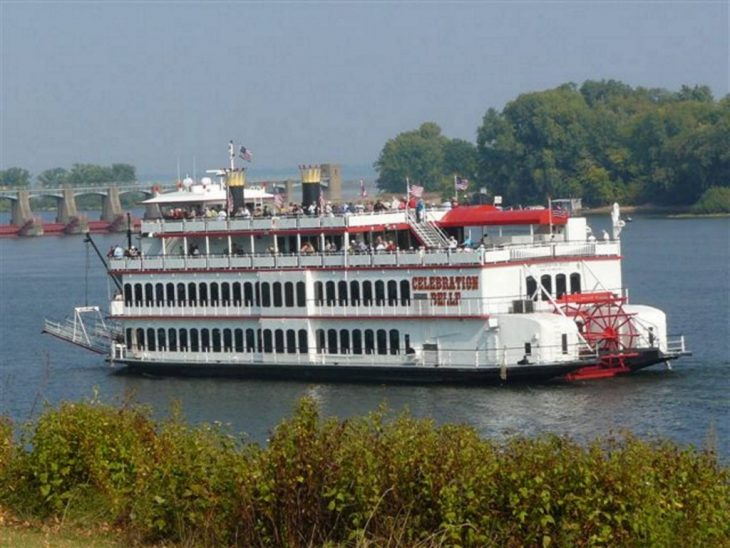 Moline, IL
What could be better than embracing beautiful scenic views while having some fun on the river? And not just any river—but the historic Mississippi River? Now is the time to start planning your spring and summer group tours, and no itinerary is complete without a Celebration River Cruises excursion.
Celebration River Cruises is a family-owned company located in the Moline, IL/Quad Cities area, operating the Celebration Belle. This 770-passenger, non-gaming vessel is the largest riverboat on the upper Mississippi River. She has four decks, including two enclosed dining decks and two observation decks with plenty of outdoor seating, along with a gift shop on the third deck. There are cash bars onboard as well, and even an elevator!
Enjoy the best views of the river with one of several cruise options, from narrated lunch and sightseeing cruises to evening dinner and entertainment cruises. Themed lunches and all-day cruises are available as well! The Celebration Belle has the perfect cruise to fit your group. In addition to fabulous entertainment, all meals are freshly prepared right onboard by experienced chefs.
2017 marks the 33rd cruising season for Celebration River Cruises, with tours offered from April through October, and even a few in November. Theme Music Lunch Cruises are a popular option for groups. These four-hour cruises offer fabulous live entertainment along with a full hot two-entrée lunch buffet, complete with their famous homemade sticky rolls and fruit. This cruise option will keep you coming back year after year, with several different themes to choose from: Classic Oldies, Big Band, Kickin' It Country, Broadway, Fall Foliage, Old Man River, Tribute to Veterans, and many more!
All-day cruises begin in June and are another great option for groups. Become Tom Sawyer and Huckleberry Finn for a day as you cruise the Mississippi from Le Claire, IA to Dubuque, IA or from Dubuque to Moline, IL. The fall season offers cruises north on the river to Guttenberg, IA and Prairie du Chien, WI. The All-Day Cruise options include three full meals, live entertainment, narration by the captain, and beautiful scenery. On your journey you'll experience locking through locks and dams. What a perfect day on the river!
The Celebration Belle is the perfect group-friendly choice for your tours, not only to have an outstanding meal, but also to enjoy fabulous entertainment—all in one spot! Celebration River Cruises makes planning easy, with cruise options from Moline, IL (Quad Cities), Dubuque, IA, and Prairie du Chien, WI.
For more information or to customize a tour for your group, contact Susan at Celebration River Cruises at 309-764-1952 or visit www.celebrationbelle.com.