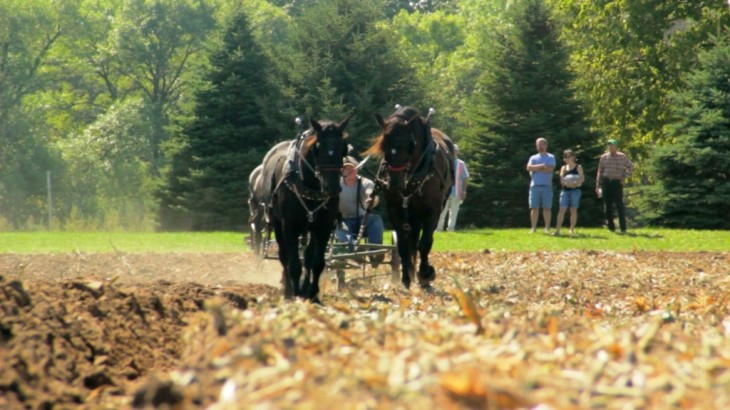 This sample itinerary is best during the fall months, but can be customized for any time of year.
Bright sunny days and cool, crisp evenings beckon you to enjoy Henry County's back roads and discover a country fall escape in Geneseo. Plan your next tour to reconnect with rural heritage and celebrate all things autumn.
DAY ONE
Noon – 4:00 pm
Attend the Antique Engine & Tractor Association's (AETA) three-day working farm show held the third weekend in September near Geneseo. The 40-acre showground showcases mid-19th-century machinery and provides working demonstrations of corn and soybean harvesting.
4:00 pm
Check in at the Best Western Geneseo Inn or America's Best Value Inn. Freshen up and relax before dinner.
5:30 – 7:00 pm
Dine in an historic atmosphere and enjoy aged, hand-cut steaks, freshly charcoaled and cooked to order in one of Illinois's oldest supper clubs, The Cellar. A separate dining area is available for large groups with a full-service bar.
7:00 pm
Experience colorful, live performances by the Richmond Hill Players with a theater in a converted dairy barn, atop the bluff in Richmond Hill Park. Groups are welcome with ample room for bus parking. The season runs April through November, with performances scheduled Thursday through Sunday.
DAY TWO
8 – 9:15 am
Awaken and enjoy a breakfast at the hotel, State Street Grill, or Parkway Grill and prepare for a day to explore and experience Geneseo's historic downtown district.
9:15 – 10:30 am
The Geneseo Historical Museum features 27 rooms in an Italianate-style home built in the mid-1800s. View the area used as a safe haven for runaway slaves escaping north on the Underground Railroad.
10:30 am – 3:00 pm
Walk the historic district and shop unique, locally owned boutique stores featuring home décor, art galleries, and apparel. Do the girls want to find their inner artists? Opportunities are available to learn a creative way to make a stylish hat at Smith Studio and Gallery or to create a colorful abstract 4×4 at the Geneseo Art League. Lunch and dine at many of the local eateries located throughout the historic downtown district.
For information on group customization for this sample itinerary or more for your groups, contact the Henry County Tourism Bureau at 877-436-7926 or visit www.visithenrycounty.com.