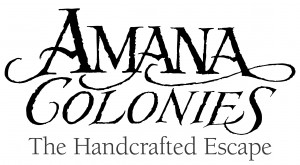 This sample itinerary can be customized for any time of year.
The Amana Colonies have been a treasure on the Iowa prairie for over 150 years, offering unforgettable experiences as unique as your group. Located just minutes from I-80, the seven villages of the Amana Colonies offer groups the opportunity to step back from today's busy pace to relish in the comfort of locally crafted foods, furniture, art, and more. The area offers a unique history and culture found nowhere else in the world. The Amana Colonies have something for everyone, and they can handcraft an experience just for your group!
While you are in the area, be sure to check out one of their famous festivals. Autumn brings the popular Oktoberfest, serving up a true German ambience. Visiting in December? Enjoy the Prelude to Christmas, featuring the awe-inspiring Tannenbaum Forest.
12:00pm – 5:00pm
The Amana Heritage Society collects, preserves, and interprets the cultural heritage of the Amana Colonies National Historic Landmark. Discover the history of this German communal settlement at the Amana Heritage Society Museum. View thousands of artifacts and see an actual piece of the Amana Meteorite of 1875. The exhibit also features maps, charts, and contemporary documentation of this world famous meteorite. Tour four other historical sites including: The Amana Community Church, High Amana General Store, Communal Kitchen & Cooper Shop Museum and the Homestead Blacksmith Shop.
To customize a group tour, contact the Amana Heritage Society at 319-622-3567 or online at www.amanaheritage.org.
5 – 7:00pm
Feel right at home at The Ronneburg Restaurant. Enjoy authentic German food from the village's original communal kitchen. They offer family-style dining, homemade soups and salads, and delicious desserts. A group dinner menu is also available.
For more information, contact The Ronneburg Restaurant at 888-348-4686 or online at www.ronneburgrestaurant.com.
7 – 9:00pm
Spend the evening with a show at the Old Creamery Theatre! Proud to be the oldest professional theatre company in the state of Iowa, this venue features musicals, plays, concerts and other special events. This year they're celebrating 45 years of bringing live, professional theatre to the people of Iowa and the Midwest. Group rates are available and bus parking is free!
For more information or to reserve tickets for your group, contact the Old Creamery Theatre at 319-622-6034 or online at www.oldcreamery.com.