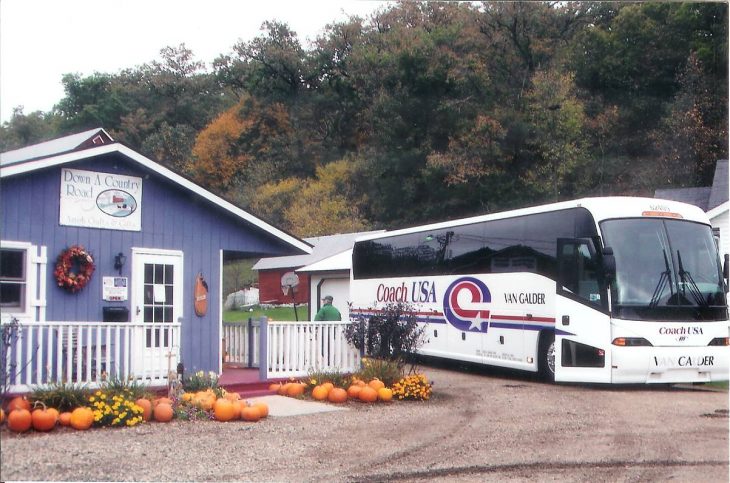 This sample itinerary can be customized for any time of year.
This 500-mile loop takes you to some of Wisconsin's greatest travel destinations. Become a "cheese head" for a few days as you and your group enjoy some good old fashioned Wisconsin hospitality!
DAY ONE
9:00am – 1:00pm
Welcome to Thorp, Wisconsin, home of Holland's Family Cheese. A recently opened location, your groups will be able to visit the Penterman Farm, the cheesemaking facility, and the Marieke® Gouda Store. Each facility has viewing areas where your groups will be able to see each stage of the cheesemaking process. Holland's Family Cheese welcomes your groups to share in their passion of modern family farming and handcrafted cheesemaking! Enjoy lunch at Café DUTCHess.
1 – 6:00pm
Head south to Beaver Dam and get settled into your room at the AmericInn Lodge & Suites. This newly renovated award-winning hotel is known for its cleanliness and great customer service. With modern amenities and a hot breakfast, your groups will be able to kick back and feel at home.
6 – 8:00pm
Choose from two delicious options for dinner. Palenque Mexican Bar & Grill will serve your groups an authentic Mexican dinner, while the Bayside Supper Club offers a wonderful banquet facility on beautiful Beaver Dam Lake.
DAY TWO
9 – 11:00am
Start the day in Beaver Dam by browsing the aisles of Nancy's Notions. This sewing outlet was featured on PBS's popular Sewing With Nancy.
11:00am – 12:00pm
Stop for a snack at It's A Sweet Life and indulge in gourmet cupcakes! Offering 6 flavors every week, you are sure to find the perfect treat to suit your taste buds.
12 – 2:00pm
Speaking of taste buds, Schultz's Cheese Haus offers wonderful and unique cheese samples as well as local wine tastings. Each aisle is bursting with cheese spreads, cracker assortments, jerky & sausage, specialty cheeses, gift boxes, and even candies & chocolates! Wisconsin souvenir items are also available.
2 – 4:00pm
A one-hour drive to Plymouth brings you to 52 Stafford. This historic inn provides uptown service with small town charm. Their Irish cooking is like an Irish song; simple and tasty on the tongue, while filling and wholesome for the body and spirit. They hope your group will find the food flavorful, the services warm and generous, and the tariff moderate.
4 – 5:00pm
Spend some time this afternoon touring Plymouth's famous murals. Modern mural artists, known as the Walldogs, have hand-painted Plymouth's history along exterior walls throughout downtown. Follow it up with a tour of the Plymouth Historical Society, displaying a variety of exhibits. View several large collections featuring the fire department, a blacksmith shop, turn-of-the-century parlor, World War II, and Native American artifacts.
5 – 8:30pm
Head one hour south to Milwaukee, where your group will love the Potawatomi Hotel & Casino. The hotel features Locavore, a full-service casual restaurant and lobby bar, as well as a coffee shop, fitness center and more. The folks at Potawatomi continue to offer the very best in gaming action across two massive floors that include table games, slot machines, bingo, poker and off-track betting. Is your group interested in seeing a show? The 500-seat Northern Lights Theater serves up world-class comedy and musical acts, giving you the best seats in the house. And check out their group packages! From bingo to hotels, Potawatomi offers great deals for groups of ten or more. Don't miss out!
DAY THREE
8 – 10:00am
Head two hours northwest to Mauston. Positioned halfway between Chicago and Minneapolis, Mauston finds you centered in the scenic Wisconsin outdoors. With clean, friendly, and affordable lodging that is group-friendly, Mauston serves as the ideal base camp for experiencing the real Wisconsin. There are many local attractions to see!
10:00am – 1:00pm
A morning boat ride on The Cruisin' Turtle will accommodate up to 50 people with 25 under cover. Equipped with air conditioning and heat, it's a great way to get your group on the water in Mauston! You are welcome to have your cruise catered or bring your own food.
1 – 3:00pm
Located just 10 miles north of downtown Wisconsin Dells is Fawn Creek Winery. Indulge in a glass of fine wine while savoring the peace and quiet of the woods on the outdoor deck overlooking this seven-acre vineyard. This family-owned business is nestled on 36 acres amid a grove of maple, pine and oak trees. They feature complimentary wine tastings, a gift shop, and a micro menu.
3 – 6:00pm
Return to Mauston and check into your hotel. Mauston has several great choices for your evening entertainment. If visiting during the warmer months, an outdoor dinner along the lake is the perfect way to end the day.
DAY FOUR
9:00am – 3:00pm
Head west to Cashton and take in a simpler lifestyle as you tour Wisconsin's largest Amish community at Down A Country Road. Over 300 Old Order Amish call the area home and have established a community rich in history, culture and handcrafted treasures. Chuck and Kathy Kuderer have established a very close friendship with many of the Amish families in the area, and together they work to bring handmade treasures and treats to you at The Village Shops at Down A Country Road. The Village Shops consist of 6 unique small cottages filled with products made by the local Amish, other local artisans and some unique general giftware. Most of the little cottages were built by the Amish and are set in amongst beautiful gardens. There is no cost to stop with your group at The Village Shops, however there is a fee for the tour.
For more information or to customize this sample itinerary for your group, contact any of the following:
Beaver Dam Chamber of Commerce
920-887-8879
www.beaverdamchamber.com
Down a Country Road
608-654-5318
www.downacountryroad.com
Holland's Family Cheese
715-669-5230
www.mariekegouda.com
Mauston Chamber of Commerce
608-847-4142
www.mauston.org/tours
Plymouth Chamber of Commerce
920-893-0079
www.plymouthwisconsin.com