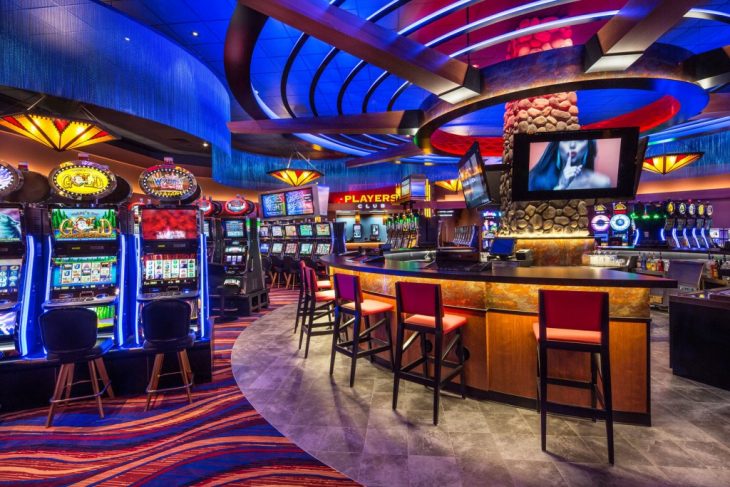 New Town, ND
Offering one-night and two-night bus packages, 4 Bears Casino & Lodge is a great destination for the group that loves gaming! The newly remodeled hotel rooms and lodge overlooking Lake Sakakawea will make for a comfortable and convenient stay.
The casino offers the latest in slot machines. With over 700 machines to choose from, with denominations from 1 cent to 25 dollars, you're bound to find your lucky machine. From the classic Wheel of Fortune to the all-new Sons of Anarchy, you're sure to find the perfect slot machine for you. The Pocket Aces Lounge even offers bar top slots!
If table games are more your speed, 4 Bears has got you covered. From blackjack to craps to roulette, you're sure to experience the thrill of combining strategy with excitement. And for the real risk-takers, stop by the High-Stakes Gaming Area.
Now that your group has worked up an appetite, dine at one of the three restaurants located on site. The Bison Room Steakhouse offers a fine dining experience, featuring North Dakota prime beef, fresh seafood flown in daily, and made-from-scratch desserts. The Cache Buffet is a full-service, all-you-can-eat buffet offering soups, salads, entrees, and numerous specialty items such as pizza and pasta. And don't miss the Action Station, serving up made-to-order steaks, sandwiches, omelets, and more. Or for a quick break from gaming, stop by the Corner Café for burgers, fries, chicken strip baskets, and more.
Take your group out on the water for a yacht tour of Lake Sakakawea. The Island Girl offers seating for 150 up and down, as well as a bar and plenty of observation glass. Enjoy catered food and drinks below deck or take in the fresh air of the open upper deck. Private and public charters are available.
There are 35 recreation areas around Lake Sakakawea, offering your groups a variety of outdoor activities. Choose from camping, boating, fishing, sailing, hiking, birding, and so much more.
Whether you're staying a few hours or a few days, 4 Bears Casino & Lodge will have plenty to keep you and your group busy!
For more information or to customize an experience for your group, please contact a Casino Host at 800-294-5454, ext. 7523 or visit www.4bearscasino.com.