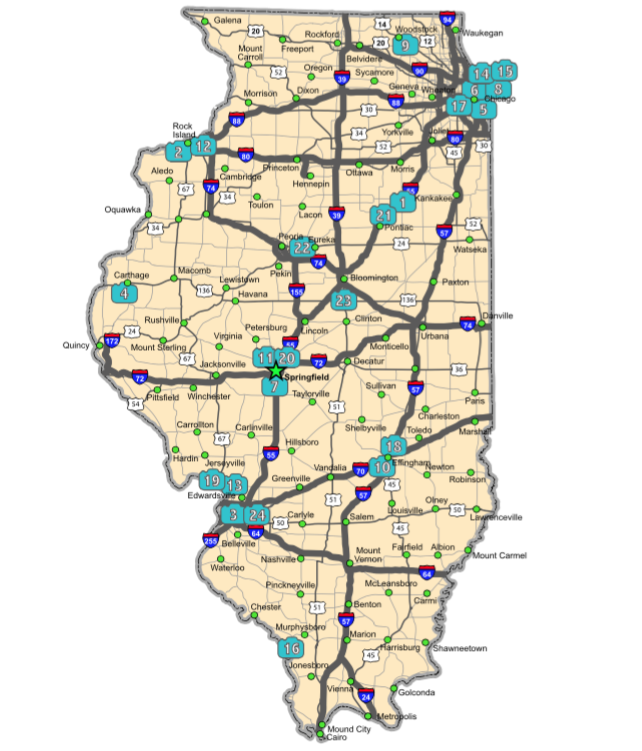 When putting together a group tour, it is always a good idea to keep some extra ideas in your back pocket. Here is a list of affordable attractions to supplement into your Illinois itinerary. Most are free, while some accept free-will donations.
1.Ambler-Becker Texaco Station – Dwight
815.584.3077
This restored Texaco, listed on the National Register of Historic Places, was one of the last original Route 66 gas stations in operation.
2. Black Hawk State Historic Site – Rock Island
309.788.0177
Hiking trails and picnic areas await your group along the Rock River and the John Hauberg Indian Museum at the Watch Tower Lodge, all part of one of the Seven Wonders of Illinois.
3. Cahokia Mounds State Historic Site – Collinsville
618.346.5160
About 15 miles east of St. Louis, you can see the 100-foot-tall Monks Mound, the largest of the area's 80 surviving ceremonial mounds from the time of the Mississippians. An interpretive center includes a re-created village and orientation theater.
4. Carthage Jail & Visitors Center – Carthage
217.357.2989
Visit the historic site where Joseph Smith, prophet of the Church of Jesus Christ of Latter Day Saints, and his brother Hyrum Smith, were incarcerated and subsequently killed by a mob on June 27, 1844.
5. Chicago Cultural Center – Chicago
www.chicagoculturalcenter.org
312.744.6630
Join the Chicago art scene on a tour of the Chicago Cultural Center, an 1897 Beaux Arts-style building that hosts hundreds of programs and exhibits annually. Both audio and group tours are available.
6. Chicago Greeters – Chicago
312.945.4231
Volunteers lead two or four-hour neighborhood walking tours. Groups can choose from more than 25 neighborhoods and 40 interest areas that include fashion, film, ethnic Chicago, and public art.
7. Executive Mansion – Springfield
217.782.6450
The third oldest continuously occupied governor's mansion in the nation is filled with antiques and historic artifacts. Built in 1855, the mansion contains 16 elegantly appointed rooms open for viewing.
8. Grant Park – Chicago
312.742.3918
Chicago's front yard, Grant Park is among the city's loveliest and most prominent parks. Check out the Buckingham Fountain, one of the world's largest fountains, with 20-minute water shows on the hour from 8 a.m. to 10 p.m.
9. Groundhog Days – Woodstock
815.334.2620
Take part in a guided walking tour of 14 plaque-marked film sites and enjoy the annual winter festival, which includes trivia contests, storytelling, a chili cook-off, and free film showings of the movie.
10. Heartland Classics – Effingham
217.342.5549
This 30,000-sq.-ft. showroom is filled with more than 200 classic cars and motorcycles. Heartland Classics has items available for purchase as well as museum items.
11. Illinois State Capitol Complex – Springfield
217.782.2099
Murals, paintings, and statues add to the beauty of this center of state government, built in 1877. The Illinois Firefighter Memorial and Illinois Police Officers Memorial are also part of the complex.
12. John Deere Pavilion – Moline
309.765.1000
The Pavilion features interactive displays on food and farming, exhibits on agricultural equipment, and a retail store. Go behind the scenes and see their biggest machines brought to life in some of the most modern and efficient factories in the world.
13. Lewis & Clark State Historic Site – Hartford
618.251.5811
Learn about the history of Hartford and visit the home of a 55-foot full-scale replica of the keelboat used by Lewis & Clark. Other exhibits and educational videos for all ages are also featured.
14. Lincoln Park Conservatory – Chicago
www.chicagoparkdistrict.com
312.742.7736
Take a journey to the Lincoln Park Conservatory, where you'll find tropical palms and ancient ferns right in the heart of Chicago. The Conservatory offers visitors a tropical experience within four display houses.
15. Lincoln Park Zoo – Chicago
312.742.2000
Lincoln Park Zoo is a world of wildlife in the shadow of skyscrapers. Located minutes north of Chicago, the zoo has been a natural, free oasis for generations of animal lovers.
16. Mississippi River Museum & Interpretive Center – Grand Tower
www.greatriverroad-illinois.org
618.565.2227
The museum is housed in an 1892 building overlooking the levee on Front Street. Exhibits in the museum include artifacts salvaged from the Golden Eagle, which sank at Grand Tower in 1947.
17. Money Museum – Chicago
www.chicagofed.org
312.322.2400
The Money Museum provides educational, entertaining, and interactive exhibits. The guided tour begins with an introduction to the attraction while stepping over a glass display case set in the floor, filled with thousands of coins.
18. My Garage Museum – Effingham
800.500.1500
What began as a small business that sold car parts out of the trunk of a borrowed car has evolved into a must-see 36,000-sq.-ft. facility filled with nearly every car accessory imaginable.
19. National Great Rivers Museum – Alton
618.462.6979
Steer through locks on an indoor barge simulator, one of 20 interactive exhibits that teach groups about the Mississippi and other rivers. The museum is about 30 miles north of St. Louis and just across the Illinois border.
20. Old State Capitol – Springfield
www.visitspringfieldillinois.com
217.785.7960
Take a 30-minute guided tour of the building where Lincoln served in the Illinois Legislature, gave his famous "House Divided" speech in 1858, and where his body lay in state following his assassination in 1865.
21. Pontiac-Oakland Automobile Museum – Pontiac
815.842.2345
Covering the history of these two classic American car brands, the museum houses numerous pristine vehicles, a comprehensive library of historical maps and brochures, and original design drawings.
22. Ronald Reagan Museum – Eureka
309.467.6407
Ronald Reagan's former school features a collection of memorabilia from his Hollywood years through his presidency. The museum and Peace Garden are part of the Ronald Reagan Trail, extending from Eureka to Dixon and Tampico.
23. Simpkins Military History Museum – Heyworth
309.473.3989
More than 1,000 American shoulder patches, 130 pieces of military headgear, 500 uniforms, and 50 rifles are on display here, as well as a Civil War 34-star American flag made in 1861.
24. World's Largest Catsup Bottle – Collinsville
618.344.8775
Listed on the National Register of Historic Places, groups won't want to miss this roadside attraction. Constructed in 1949 and restored in 1995, the now-empty steel water tank and tower measures 170 feet tall.